Technical Liaison Group Working Group


The technical activities of NAFEMS are directed by the Technical Liaison Group (TLG). The TLG currently consists of the chairmen of the Technical Working Groups.
The TLG focuses on two primary activities:
a) Managing and co-ordinating the pipeline of membership deliverables currently being developed by the different Technical Working Groups.
b) Developing an initial version of an all-embracing Technical Strategy Plan for NAFEMS. Once completed, this will become a live document, which all members will be encouraged to comment upon and which can be updated frequently. At the present time, considerable effort is being made to ensure that this Technical Strategy Plan includes all the priority issues identified by the FENet project in order to guarantee continuity of the momentum which has been built up during this important initiative.
Chairman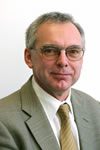 Paul Newton
GBE