Available Opportunities
Sponsorship and Exhibition Opportunities
Download the full sponsorship brochure here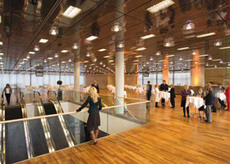 Join us in Austria

We are delighted to offer your company the chance to be part of the 14th NAFEMS World Congress including the 1st International SPDM Conference, to be held in Salzburg, Austria, on June 9th - 12th 2013. There are several outstanding opportunities available for your company to sponsor or exhibit, giving you maximum exposure to a highly targeted audience of delegates, who are all directly involved in simulation, analysis and design.

Confirmed Exhibitors
Altair Engineering | ANSYS | Beta CAE Systems | CD-adapco | CEI | Contact Software | Dassault Systèmes Simulia | DYNAmore | Dynardo | EnginSoft | ESI Group | Esteco | FE-Design | Friendship Systems | GNS + GNS Systems | Granta Design | HBM | Intes | ITI | Key To Metals | Kompetenzzentrum | Mentor Graphics | MSC Software | NAFEMS | Noesis Solutions | Parsolve | PDTech | Phoenix Integration | PSE & NAFEMS Training | ScaleMP | Siemens PLM Software | SpaceClaim | Zentech International....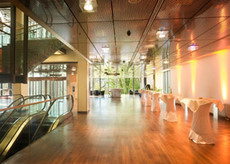 NAFEMS World Congress - NWC13

As the only truly independent, international event dedicated to engineering analysis and simulation, the biennial NAFEMS World Congress has been a fixture on the calendar of everyone involved in FEA, CFD, MBS and CAE for the last three decades. The last Congress in 2011 welcomed over 300 attendees, all of whom were keenly focussed on analysis and simulation. The Congress is undoubtedly one of the most prestigious and highly focussed simulation and analysis forums available to the community, and is held in highest regard by users, software vendors and academics alike.

The International SPDM Conference
Over the past three years, NAFEMS has held a series of dedicated conferences on the topic of simulation data and process management in both Europe and North America. The popularity of these has been such that the 1st International SPDM Conference has been launched, and will run alongside the NAFEMS World Congress in 2013. Bringing together industrial users, technology experts, academics and software vendors alike, this ground-breaking event will allow all those with an interest to take part in the first truly independent, international forum dedicated to SPDM.


Two Conferences – One Package
Delegates registered for both conferences will have access to both. The tracks for the SPDM conference will be scheduled in such a way that delegates can also take part in the NWC keynote sessions without missing out, and similarly, NWC delegates can take part in the SPDM agenda as and when they please. The co-location of both shows will provide an extensive exhibition area, including a specific area within this dedicated to SPDM. Sponsorship and exhibition packages cover both events, with a further specific sponsorship package for those companies who wish to sponsor only the SPDM conference.
A Unique Opportunity
The World Congress presents a unique opportunity, as delegates are primarily high-level decision makers working in industry across the globe. These are the decision makers that your marketing dollars are spent on trying to reach every year - what better way to justify your attendance at the Congress?
The exhibition area will be the central focus-point of the Congress, ensuring that there is a consistent level of "traffic" at all times –refreshments, announcements, events and competitions will focus on this area, giving you the chance to meet as many of our delegates as possible.
Align yourself with the NAFEMS Brand
As the only International Association for the Engineering Analysis Community, NAFEMS is widely held to be the leading independent source of information and training for engineering analysts and designers of all levels. Sponsors and exhibitors will have the chance to promote their attendance prior to the event, through the various packages outlined here. Being seen to be participating in the NAFEMS World Congress gives the analysis world a positive impression of your company's commitment to best practice, standards and continued professional development.
Benefits
So what are the benefits of sponsoring and exhibiting at the Congress?
Promote your company to a large but highly focused group of individuals who have a pre-qualifi ed interest in your product
Establish important contacts within the industry
Keep an eye on the activities of your direct competition
Increase your company's visibility and standing in the analysis community
Showcase your latest product releases and service offerings
Discover exactly what your target market needs from you, and what trends are emerging across the industry
Interested?
Please take a look at the various sponsorship and exhibition opportunities, or simply complete the form on the left and we will be in touch.