NAFEMS World Congress 2015
incorporating the 2nd International SPDM Conference
21-24 June 2015 | San Diego | California | USA
Manchester Grand Hyatt, San Diego1 Market Place | San Diego | California | USA | 92101
(In order to read more information about the venue please consult the Nafems World Congress Venue tab)

---

We are please to announce that you can now view the list of abstracts that have been accepted for the World Congress.
Manuscript submission, as well as attendee registration,is now available in the Author's area of the NAFEMS World Congress website. Registered authors can also access and update their profiles.


Modeling, simulation and systems engineering is ever-evolving, and continues to inspire minds and drive innovation across all industries. The pace of change in software, hardware, techniques and best practices has been staggering in the past ten years alone, and the community continues to develop to encompass every part of the product development process.
How do we, as a community, keep up with this growth? How do we ensure that our knowledge, processes, tools and corporate culture are best placed to take advantage of the continued evolution in simulation technology?


There is a new world of simulation out there,
and its home is at the
NAFEMS World Congress 2015.


NAFEMS is the only independent, international organization dedicated exclusively to everyone involved in engineering analysis, simulation, modeling, and we want you to be a part of it.


One Registration - Two Conferences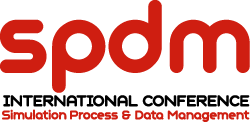 The World Congress will also host the 2nd International Conference on Simulation Process and Data Management. After an astounding response to the first event in Salzburg, Austria in 2013, this ground-breaking event will bring together industrial users, technology experts, academics and software vendors alike, allowing all those with an interest to take part in the only truly independent, international forum dedicated to SPDM. Attendees, speakers and exhibitors have free access to both events under one registration.











---
Need more information?
Want to register your interest as a sponsor, exhibitor, presenter or attendee?
Get in touch!
Email nwc15@nafems.org or
call +44(0)1355 22 56 88