Simulation & Analysis for Modern Composite Applications
1st NAFEMS Benelux Seminar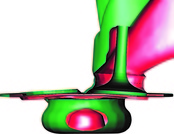 As part of our continued international expansion, NAFEMS are delighted to launch our first seminar in the Benelux region, "Simulation & Analysis for Modern Composite Applications".
In 2012 NAFEMS conducted a survey into the common practices and issues related to the analysis of structures made from composite materials. The results made for interesting reading:
When asked about the most appropriate modelling approach a common response was that analysts are trying to compare their FE results against experimental results – a pragmatic approach which sounds eminently sensible.
When asked about the source of the material properties used in the analyses, the most common response was that analysts make their own measurements from experiments or get data from the material supplier or the literature. Again, that sounds perfectly reasonable.
However, when asked where they needed the most help when simulating composites, a significant proportion of the respondents cited material properties as their main area of concern, followed closely by the difficulties of modelling failure and selecting appropriate failure criteria.
In response to the survey results, NAFEMS is organising this seminar as a companion event to the recent UK seminar on the same topic, which brings together experienced practitioners in composites analysis, offering insight into the best approaches for obtaining and validating composites material properties, selecting and using appropriate failure criteria, and establishing robust analysis approaches for modern composites design.
Topics covered:
Derivation and interpretation of material properties from experiment

Creation and maintenance of material models and property databases

Specific material properties required for different constituents and behaviours (fibre, matrix, interlaminar, crush), in different loading regimes.

Analysis approaches

Account of imperfection, tolerance, variability.

Short Fiber Reinforced Plastic (SFRP)/Injection Molding

Discontinous Long Fiber (DLF)/Compression Molding

Continuous Fiber Reinforced Plastics (CFRP)/Draping
Presentations
Registration - 08:45


Composites Modeling: Challenges & Opportunities
Roger Assaker, e-Xstream engineering
Homogenization-Based Modelling of the Nonlinear Behaviour and Damage of Composite Materials
Issam Doghri, University Louvain
An Isogeometric Continuum Element Formulation for the Simulation of Failure in Layered Composite Materials
Joris Remmers, Eindhoven University
Using Experimental Test Data in the Analysis of Laminated Structures
Andre Monicke, Componeering
Optimizing Material Properties for Under Water Constructions Sensitive to Buckling
Ronald Van Dijk, Van Dijk FEM Engineering
Mixed Numerical Experiment Methods for Composite Material Identification
Eddy Dascotte, Dynamic design solutions

Composite FEA at Damen Shipyards - Global and Local Stiffness, Mobility and Modal Analysis Results Compared to Measurements
Olaf de Swart, Damen Shipbuilding

Virtual Testing of Thermoplastic Composite Pipe for Offshore Applications
Henk de Boer, Airborne oil & gas
Seminar Closes - 5pm
Who Should Attend
The seminar would be of interest to engineers involved in the design and analysis of composites structures, as well as consultants and researchers who are involved in material research, supporting the design process or developing methods for more accurate prediction of composite behaviour.
Location
NH Maastricht Hotel
Forum 110, 6229 GV Maastricht,
Netherlands
+31 43 383 8281
Purchasing Details
Members Price
£159 | $260 | €190
---
Non-Members Price
£214 | $349 |
€255
---
Order Ref: BENELUX13
Event Type: Seminar
Location: Maastricht Netherlands
Date: December 11, 2013


Exhibitors


Exhibition Opportunities
There is an opportunity available for your company to exhibit at the seminar, giving you maximum exposure to a highly targeted audience of delegates, who are all directly involved in simulation, analysis, and design.
Please contact Jack Tarpey at NAFEMS tel: +44 (0)1355 225688 email: jack.tarpey@nafems.org if you would like more information.