benchmark 1 Year Subscription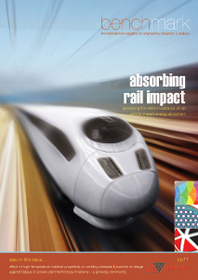 Enjoy 4 issues of benchmark delivered straight to your door.
Produced quarterly, a year long subscription allows you to enjoy 4 issues of industry-respected benchmark magazine.
By subscribing you can benefit from content that focuses specifically on analysis and simulation. Articles in benchmark span all areas of simulation including FEA, CFD, PLM & CAE and encompasses industries from aerospace to bio-medical engineering
Recent articles in benchmark have considered topics as diverse as adaptive re-meshing in structural analysis,fire engineering, and the practice design against fatigue in power planttechnology. As well as covering a vast array of articles, benchmark alsoincludes regulars such as 'vendor view','Q&A', 'NAFEMS news', 'NAFEMS events', 'the CAE guy' and 'industry events'.
Subscribe today!
Save more by opting for a 3 year subscription.