FLOVENT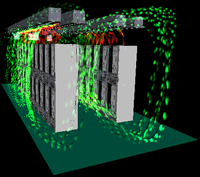 FLOVENT's fast and easy-to-use menu system is designed specifically for engineers involved in the design and optimisation of heating, ventilating and air conditioning (HVAC) systems. FLOVENT can be applied to buildings of all types and sizes.

• atriums, shopping malls and office buildings
• theatres, airport terminals, storage facilities and warehouses
• telephone exchanges and data centres
• passenger comfort in vehicles
• air quality and contaminant control in laboratories, research facilities, hospitals and underground car parks.

Airflow modeling gives engineers the luxury to consider several design options in the minimum amount of time. As a result, the final design is not based on a tentative approach, but is a result of a professional design process considering several options and selecting the optimum solution. This can save on capital and running costs, save time on correcting mistakes further down the design route and save time on commissioning.
For more information on FLOVENT visit