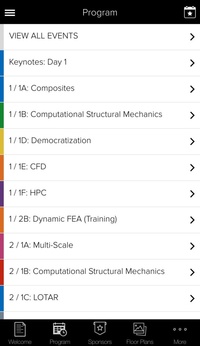 Conference App
We are excited to announce the availability of the CAASE18 Conference app. Our hope is that this new tool will put the entire event at your fingertips to ensure you get the most out of your participation.
Note: We will not list the presentations and all training/workshops until we have properly categorized and scheduled in an agenda.
How to Download
Visit http://my.yapp.us/CAASE on your device and follow the instructions on the page
You'll be asked to install Yapp from the app store (if you don't have it already)
Open Yapp and tap "Download an existing Yapp" and your app will appear.
If you encounter any issues with downloading this app, or notice any errors we've made in the app (we're human, after all), please email us.
Description of App Feature
Program: Look-up all presentation listings, abstracts, dates & times, rooms, and even add to your personalized schedule with the click of a button (Note: Scroll to the bottom of an abstract to find the "Add Event to My Schedule" button. To view your personalized schedule, tap the button at the top right side of your screen, which is represented by a calendar & star icon.) You can also rate (based on a five-point scale) each of the presentations you attend by scrolling to the bottom of each presentation listing and giving it a score.

Sponsors: More than 25 companies and organizations, all directly involved in simulation, analysis, and design, will showcase their latest technologies at this year's conference. Do not miss this opportunity to speak with all of the key providers in this space at one location during your visit.

Floor Plan: Quick access to the floor plans will help ensure you make it to the next session on time.

Keynote Speakers: Learn more about the individuals giving keynote presentations at this year's conference.

Documents: The latest copy of the agenda (PDF) will be available on this app. Of course, our hope is that the "Program" button will be the preferred option, especially considering that you can read each presentation abstract and then tap the "Add to My Event Schedule" button (found below the abstract) to add it to your personalized schedule.
Rock & Roll Night Out: Learn more about the special activity we have scheduled for the evening of Wednesday, June 6th.

News Feed: This app will allow us to push important notifications to you during the conference.
Information: Here, we have provided the Huntington Convention Center of Cleveland address, event website, and a few conference highlights.
Platinum Sponsors




Event Sponsors




In-Kind Sponsors* Media Sponsor*



*Available on a case-by-case basis to vendor-neutral organizations synergistic with the aims and purposes of NAFEMS in general and the CAASE2018 event in particular. An In-Kind or Media Sponsor is an acknowledgment of technical and/or marketing/business support by an organization for the CAASE18 event through mutual collaboration on relevant initiatives, often including reciprocal NAFEMS in-kind-support for the corresponding organizations' appropriate events. Please contact NAFEMS Americas for more details.