Moji Moatamedi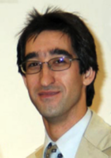 Professor M.Moatamedi
BSc, MSc(Eng), MBA, PhD, MASME, FRAeS
Professor Moji Moatamedi holds the Chair in Multiphysics and is currently working at Narvik University College in Norway as the Director of Multiphysics Centre. Prior to his move to Narvik, he taught and carried out research in the areas of Multiphysics, Fluid-Structure Interaction,Modelling and Simulations at Cranfield University (2008-2010), The University of Salford (2000-2008) and The University of Sheffield (1993-2000). During his stay at Cranfield University he was the Director of Motorsport Engineering and Management; and at The University of Salford he was the Director of the Centre for Engineering Materials as well as Director of Aerospace Engineering.
He is the author of many peer-reviewed publications, commercial reports and presentations including keynote addresses at international symposiums and conferences. His industrial research and engineering experience includes work for the Ministry of Defence, the Health and Safety Executive, Electrolux, Shelland Jaguar UK.
He is the founder and the President of The International Society of Multiphysics (www.multiphysics.org), the Editor-in-Chief of 'The International Journal of Multiphysics' as well as the chairman of the associated annual conferences. He has also served on a scientific committees and advisory boards of many international conferences and events. He also served as the Chairman of the Manchester Branch of the Royal Aeronautical Society and he is currently a member of a number of national and international scientific committees; and advisor to a few industrial and governmental bodies including the Office for Nuclear Regulations. In addition he has been the lead person to devise multiphysics competence standards for European Union. He is also the vice chair of the Association of Aerospace Universities. He has been involved with NAFEMS for many years and is currently the vice chair of the Multiphysics Working Group.