Alexander Ptchelintsev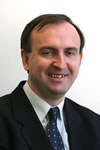 Alexander Ptchelintsev received his M.Sc. Degree (Honours) in Civil Engineering in 1984 from Moscow State University of Civil Engineering (Russia) and Ph.D. Degree in Structural Mechanics in 1989 from the same University.
During 1988-1998 he had been working as a Senior Scientist at All-Russian Research Institute for Fire Protection of the Ministry of Interia. His research was in the field of fire resistance of steel and reinforced concrete structures. In 1994-95 and 1997-98 he was awarded a Postdoctoral Fellowship and Invited Scholarship at Building Research Institute and Waseda University in Japan. The studies in Japan involved thermal and structural analysis of structures exposed to localized fire and fire modelling. In 1998 he joined the Fire Technology laboratory of Technical Research Centre of Finland (VTT) as a Research Scientist where he continued his research in the field of fire safety science.
Since joining Nokia Research Center in 2001 as a Principal Scientist, Alexander has been a key contributor in projects related to design of robust phones and structural analysis of mobile terminals during the early stages of design. His current area of research involves multi-disciplinary simulation and optimization of mobile terminals. This is a new area of research in the very dynamic and highly competitive telecommunication industry, therefore cooperation with the best analysts via the NAFEMS organisation is essential for success.
It is natural for Alexander, taking into account his background, to promote NAFEMS ideas to CIS countries where the need for more educated engineers equipped with the latest knowledge in engineering analysis and simulation is increasing due to fast economic growth.