Kamran Fouladi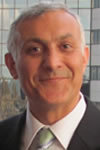 Kamran Fouladi
, Ph.D., PE. is currently the president of InfoMec, a Computational Fluid Dynamics (CFD) consulting and training firm. Kamran has over twenty years of experience in mechanical and aerospace engineering.
He is a researcher and practitioner of CFD and he has been teaching CFD and other fluid mechanic courses at Villanova University since 2001 both at undergraduate and graduate level. Kamran is a licensed Professional Engineer (PE) in Pennsylvania

Kamran's career began in aerospace arena working at NASA Langley and United Technologies' Pratt and Whitney (P&W) prior to establishing InfoMec CFD Consulting in year 2000. With InfoMec, Kamran has provided engineering and CFD support to projects of national importance (NASA Crew Exploration Vehicle, NASA Orion's Launch Abort Vehicle, NASA Orbital Space plane, and NASA supersonic transport and business jet aircraft) using in-house, public domain, and commercial CFD software.
He is currently focused on using CFD in the area of thermal management of complex and mission critical facilities.
Kamran's Recent Posts
Growing Pains
26 April 2013
Commercial marketplace for CAE software is undoubtedly similar to any other marketplace where competitors vie for increased market share. Add to this landscape, organizations and individuals who believe in open source environments and the landscape becomes even more competitive for CAE software companies. This paradigm certainly holds true for CFD software as evident by "significant" number of available software and frequent new releases and upgrades. Discussing this landscape with a friend, he made an insightful comment that today's CFD software (commercial or open source) seems to be about 10 to 15 years behind the currently available FEA tools in terms of maturity. Now, I don't know enough about FEA software to gauge the accuracy of this comment. However, with some certainty, I can declare that the present CFD tools cannot be considered "mature" at this time.