Tony Abbey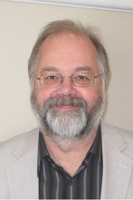 Tony Abbey has over thirty years industry experience, working for BAE Systems, Rolls Royce, Airbus, Westland Helicopters, Boeing, MBDA, Goodrich and Alenia. Building on his extensive industry expertise, Tony has developed and taught a wealth of FEA based training over the last fifteen years including many of NAFEMS classroom and e-learning courses.
Tony's Recent Posts
I had the privilege of attending the NAFEMS World Congress in Salzburg in June. It was a busy time for myself and my e-learning colleague Kamran Fouladi as we gave a series of short classes to act as tasters for the full courses run throughout the year. It was very pleasant to meet NAFEMS members who had already attended the e-learning courses. Teaching the classes is quite a remote experience and it is great to get feedback and encouragement first hand. Being recognized by a Russian attendee whilst visiting the Eagle's Nest was a unique experience.
I did manage to attend some of the papers and was very impressed by their range and quality. I spoke to several first time attendees and they were all struck by the unique insights into the Simulation community that the NAFEMS conference gives.
Of the many themes that emerged, one in particular struck me. A keynote paper by Mr Hasselblad of Volvo showed the extraordinary lengths automotive manufacturers go to ensure safety of the vehicles and how important a role simulation plays in this. Volvo continues to be, probably, the leader in this field and this was underpinned by the stated goal that that by 2020 there would be no serious injuries to an occupant of a Volvo vehicle involved in an accident. This is an incredible mission statement and an amazing humanitarian vision, just think about it for a moment. I hope I have not misquoted – it made a deep impression on me.

---
by Tony Abbey, NAFEMS Training Manager
Every Saturday when I am in town I work as a part time volunteer at Yank's Air Museum in Chino, California. If you are in the area please come and check it out, it is rather special. If I am there don't forget to say hello.

One of the museum aircraft has always intrigued me because of the photo blow-up set on an easel next to it. The aircraft is a Cessna A model, the first aircraft built and flown by Cessna as an independent company. It is a high wing monoplane with very sleek lines for 1928. Clyde Cessna, the founder of the company designed it, and believed in the advantages of the monoplane - much less drag and the opportunity to develop a very efficient wing structure. However the majority of the aircraft industry, the military and certainly the public, were very mistrustful of the monoplane. Rugged biplanes with plenty of struts and bracing wires looked safer and were the standard of the time.

Clyde Cessna was an innovator, and it seems, a shrewd businessman. He needed to convince the public that his planes were as strong as the biplanes. The photo on view in the museum shows his determination to prove his point. A Cessna A model sits on the Kansas plains, under a dramatic sky. Standing along the top of the wing, looking very proud and equally determined are half the design office! There are eighteen people in this photo, and there are other photos with even more.

---
My Uncle started as a River Pilot on the English Humber River; a treacherous place with strong currents and constantly changing sandbanks. He then served in the Merchant Navy and was torpedoed twice. Post war he captained a survey and salvage ship for the Royal Air Force. This included marking out and monitoring offshore target ranges.
A grim task was salvaging aircraft that crashed during bombing practice. Sometimes this occurred within sight of land. Sonar and other search methods were not so advanced as today, so to jumpstart the search he would visit witnesses onshore; either from the official list or just from casual inquiry. With a few good witnesses he could establish a cross bearing plot. It didn't always work - but on several occasions he pinpointed the location and sped up the salvage process. Investigating anecdotal evidence is a useful method when trying to confirm the validity of an analysis. It is always an implicit part of the analyst's job to seek out any information that can help support the simulation.
Formal test correlation methods are an essential part of many projects. However, if unavailable, anecdotal evidence becomes important. Coming across information by chance helped me on many projects.
---
I have been living in the US now for 13 years and occasionally I get a little nostalgic for the TV shows I grew up with in the UK. I found a DVD catalogue which included what in the US we call Cop Shows. The English vernacular I remember is Police Dramas. I ordered some old favourites such as "The Sweeney", "The Professionals" and even an extraordinarily dated "Dixon of Dock Green".
As I sat through a few it struck me that there was often a common stage in the plot line. If a bank had been robbed, security van hijacked or similar knavery, the first thing our heroes did was to arrest the 'usual suspects'. The thinking is pretty logical; if somebody's going to rob a bank they have probably done it before. Police dramas are somewhat telescoped in time. We need a solution within an hour - or if it's a special show at most 90 minutes.
I'm sure real policemen cringe at some of the procedures but there is probably merit in the 'usual suspects' theory. In FE Analysis we don't have many crimes but sometimes things do go dramatically wrong. The solution fails to run or we get dubious answers.
---
Earlier this year I travelled from London to Glasgow for a meeting. That gave me the opportunity to ride on a railway train for the first time in Britain since the era of British Rail. My memories are of a system that was starved for funds with much neglect and decay. Returning by rail to my hometown on one trip was a shock. The elegant Victorian station had been savagely removed, and a corrugated iron shed had been put in its place, losing a few hundred yards of track.

However the journey to Glasgow drove away all those memories – it was a brilliant ride! The journey only took four hours and it was comfortable, quiet and very relaxing. It was tempting to sit back and thoroughly enjoy the experience, instead of working as planned.

One of the main improvements was the ride smoothness at around 125 mph. I had to do some 'engineering' experiments to detect the vibration (I will leave you to guess what those were and perhaps get some feedback on ideas, in the spirit of exploding dough and carrots). I walked along the carriages without the violent swaying and rocking that I remember well. I have since read an article explaining that it is a combination of track straightening and banking, together with carriages that can tilt into the curves. The combined bank angle was impressive; with the surrounding countryside rolling about the carriage axis quite happily.