NAFEMS Members Elect Dr. Rodney Dreisbach to the NAFEMS Council of Management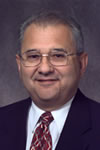 Glasgow , Scotland – June 5, 2009 - NAFEMS , the International Association for the Engineering Analysis Community, has added a new member to the NAFEMS Council of Management with the election of Dr. Rodney L. Dreisbach of The Boeing Company.
During the NAFEMS Annual General Meeting (AGM) on November 17th, 2008, NAFEMS members unanimously approved Dreisbach's nomination. Dreisbach also serves at the Chairman of NAFEMS North American Steering Committee , and he is an active member in several of NAFEMS Technical Working Groups .
NAFEMS chairman, Dr. Costas Stavrinidis stated, "Dr. Dreisbach is a recognized leading professional in this industry, and he has been a driving force for innovation within NAFEMS." Dr. Stavrinidis adds, "I look forward to working even closer with Dr. Dreisbach to set NAFEMS activities in a proactive manner for the benefit of our North American members and the international community in this domain."
"The addition of Dr. Dreisbach to the Council of Management represents NAFEMS international reach," said Mr. Tim Morris, NAFEMS chief executive officer. "The senior management of the organization now includes directors from seven different countries including the United States."
"I am thankful for the NAFEMS Council of Management for electing me as the 1st non-European member of the Council, said Dr. Rodney Dreisbach. "This is a significantly important step for an organization such as NAFEMS to perform its charter that spans the world. In these times of global presence being vital to the operation of such an organization, inclusion of international diversity in its leadership is mandatory, especially in diversity of knowledge, experience, thought, and culture."
Dr. Dreisbach also adds, "The subject appointment lends itself to meeting 2 of the 4 specific objectives of the NAFEMS North American Steering Committee, namely that of 'Stimulating innovation via knowledge transfer' and 'Promoting collaboration' throughout the international engineering analysis and simulation community.
The NAFEMS Council is made up of long-standing NAFEMS members who have actively participated in NAFEMS activities over a period of time. The council takes all policy decisions and manages NAFEMS as a company, directing and controlling the growth and activities of NAFEMS. The council also decides on the direction of future research, controlling the working groups and planning the deliverables schedule for each membership year.
Dr. Rodney L. Dreisbach, Senior Technical Fellow (STF) with The Boeing Company, is the STF Advisor to the Boeing enterprise Structures Technology Domain and leads the Commercial Airplanes Computational Structures Technology Group in support of a cross-functional initiative across the Boeing enterprise; its objective is implementing enterprise-wide lean systems for optimizing conceptual and detailed structural designs of aerospace vehicles. Dr. Dreisbach has 40 years experience in pioneering the development, validation, application, support and maintenance of large-scale multitechnology computing systems, spanning linear and nonlinear response of metallic and advanced-composite structures due to static and dynamic load environments, fracture mechanics, flutter, and structural/acoustic interaction. He is the Boeing focal for NAFEMS; a member of the Technical Advisory Board for their 1997 through 2009 World Congress symposia; and a charter member and chairman of the Steering Committee for the North American Chapter of NAFEMS.
Dr. Dreisbach holds a B.S. and an M.S. in engineering from Pennsylvania State University, and a Ph.D. in structural mechanics from the University of Colorado (Boulder). He is a registered Professional Engineer, an Associate Fellow of the American Institute of Aeronautics and Astronautics (AIAA), a Fellow member of The Royal Aeronautical Society in London, England, and a member of the Sigma Xi National Scientific Research Society. Dr. Dreisbach has published more than 100 technical papers since 1963.
NAFEMS is an independent, not-for-profit organization that works to promote the effective use of engineering simulation methods such as finite-element analysis, multibody system dynamics and computational fluid dynamics.