Agenda Announced for North American modeFRONTIER User Meeting 2013
ESTECO is pleased to unveil the program for the upcoming event in
Plymouth, on November 6th and 2 training courses
North American modeFRONTIER User Meeting at a glance:
14 presentations from highly regarded companies and academic institutions
over 100 attendees expected, providing an ideal networking platform
2 training courses for novice and advanced modeFRONTIER users
Product updates and software development insights
Novi, MI (USA) | October 9th, 2013 – ESTECO SpA and ESTECO North America are pleased to unveil the agenda for the upcoming North American modeFRONTIER User Meeting 2013, which will be held in Plymouth, MI, on November 6th. With 14 top-rate presentations, over 100 registered attendees and 2 training courses, the event has in the past proved to be a primary forum for optimization enthusiasts, sharing the most innovative modeFRONTIER experiences.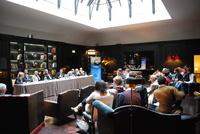 Among the prominent speakers taking part in the program, John Mannisto, Engineering Director for Simulation Based Design at Whirlpool Corporation will give the first keynote talk ("Driving Product Development with CAE and System Design at Whirlpool Corporation"). Dr. Kalyanmoy Deb, Koenig Endowed Chair Professor at Michigan State University, will give the invited lecture titled Towards Handling Many Objectives: Initial Results Using NSGA-III.
On the automotive side, Dr Ren-Jye Yang, Senior Technical Leader at Ford Motor Company, also ASME/SAE Fellow, will give the keynote talk titled Design Optimization Applications in Automotive Industry. Users from Cummins Inc., Modine Manufacturing Co., Ford Motor Company, Whirlpool Corporation and BorgWarner Turbo Systems will present results from some of their recent work with modeFRONTIER, while speeches from Carlo Poloni, President of ESTECO SpA, and Nader Fateh, VP of ESTECO North America and Sumeet Parashar, Manager of ESTECO North America's Technical Services group, will provide useful product updates and insights into modeFRONTIER future development and perspectives.
On
November 7th
in the same location, ESTECO North America has organized
two training courses
intended for new and advanced users. The two courses will offer the chance for a hands-on experience of the new features of the just-released
modeFRONTIER 4.5
and the opportunity to learn more about modeFRONTIER post-processing tools, robust design and response surface methodology. Detailed program and registration forms are available on the
conference website
.
More about ESTECO
About ESTECO SpA
ESTECO is a pioneer in numerical optimization solutions, specialized in the research and development of engineering software for all stages of the simulation-driven design process. Perfecting engineering and reducing complexity in the design process is our vision. Founded in 1999, the company is headquartered in Area Science Park in Trieste (Italy) and currently employs 40 professionals and serves more than 250 international clients, including BMW, Daimler, Ferrari, FIAT, Ford Motor Company, Honda, Mazda, and Toyota.
ESTECO North America was established in 2004 as a subsidiary of ESTECO, in order to expand strategic relationships in Americas, to provide direct support, and to offer customised services. The company's main office is located in Novi (MI). It is a hub that supports South American clients with the help of a qualified sub-distributor network. www.esteco.com
Click to Tweet:
@esteco_mF
using the official #UM13 hashtag
Join our
modeFRONTIER Users'Group on Linkedin