NAFEMS Announces Webinar Series: "Simulation 20/20 – The Next Five Years"
AUGUST 5, 2015; COLUMBUS, OH -- NAFEMS the International Association for the Engineering Analysis, Modeling and Simulation Community, has announced an initiative to collaborate with a number of industry thought leaders and end-user companies to develop and deliver a webinar series titled: "Simulation 20/20 – The Next Five Years". This year-long program will offer fourteen webinars aimed at advancing the understanding, usability, and application of current and emerging CAE technologies and methodologies.
"The full potential of analysis and simulation is not often realized due to such factors as accessibility, usability, financial, and confidence," commented Matthew Ladzinski, NAFEMS Vice President, Americas. "This webinar series is the result of our commitment to continue to advance analysis and simulation technologies, best practices, and usability."
Schedule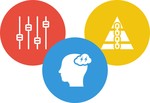 The series will commence on Thursday, August 27 with a webinar entitled: "Democratizing CAE". This webinar will discuss how CAE Analysis is being deployed to a broadening group of users throughout product development using template-based simulation applications.
Following this webinar, NAFEMS will hold three additional webinars based on case-studies related to the democratization topic, including:
Expert Knowledge Capture & Reuse

Usability

Accessibility

In late-2015, NAFEMS will launch the second topic of the program with a webinar on Simulation Confidence, which will be followed by case-study webinars on:
Verification & Validation

Uncertainty Quantification

Risk Management

Simulation Deployment & Governance

The "Simulation 20/20" webinar program will conclude with webinars on Business Change, and several key sub-topics, including:
Return on Investment (ROI)

Licensing Models

Communication

Influence of Small-Medium Enterprises (SMEs)

Registration
To register or for more information, click here
About NAFEMS
Established in 1983, NAFEMS (The International Association for the Engineering Modelling, Analysis and Simulation Community) is a not-for-profit organization focused on the practical application of numerical engineering simulation techniques such the Finite Element Method for Structural Analysis, Computational Fluid Dynamics, and Multibody Simulation. In addition to end users from all industry sectors, our stakeholders include technology providers, researchers and academics. For more information visit www.nafems.org.
Press Contact
Olivia Bugaj
Tel: +44 (0) 13 55 22 56 88
E-mail: olivia.bugaj@nafems.org