BBC's Rory Cellan-Jones Confirmed as Keynote Speaker at NAFEMS' 2010 UK Conference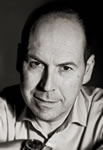 NAFEMS have announced the keynote speaker for the 2010 NAFEMS UK Conference. BBC Technology Correspondent Rory Cellan-Jones has covered business, industry and technology for over 25 years. A respected reporter and author, his previous roles have included Internet Correspondent with the BBC, as well as covering stories ranging from Black Wednesday and the Maxwell trial to the dot com bubble and the rise of Google. His keynote presentation will examine the role of high-technology in today's UK business arena.
"We are delighted to welcome a speaker of Rory's calibre to the NAFEMS 2010 UK Conference" , commented David Quinn, Head of Marketing & Communications at NAFEMS and Editor of benchmark magazine. "Rory's experience and insight into the role of technology in UK business will bring a welcome perspective to the event, and the question of the place of Britain in an ever-expanding technological marketplace will provide excellent context to the specific engineering analysis themes the conference will go on to cover."
In today's uncertain economic climate, companies are continually looking towards the design and manufacturing process as a way of increasing efficiency and contributing to the bottom line. Recent research shows that best-in-class companies make the greatest use of simulation technology – an important consideration when competitiveness is vital in a turbulent marketplace.
Following on from the outstanding success of the previous conference held in 2008, the NAFEMS UK Conference 2010 will be the country's premier conference on Simulation Technology for the Engineering Analysis Community. Sponsored by Simulia, it will bring together leading industrial practitioners, consultancies, academic researchers and software developers with a common interest in engineering analysis.
Once again, this two day conference will cover the current best practices and state-of-the-art in FEA, CFD and associated technologies, providing attendees with the most comprehensive overview of the technology available. In addition to the informative main conference sessions, this time the conference will be further enhanced by activities hosted by a number of the NAFEMS Working Groups. Further details of Workshops, Clinics and Master Classes will be announced in due course.
Being held at the Kassam Stadium Complex in Oxford in the heart of England, the NAFEMS UK Conference 2010 is readily accessible from the across the UK, as well as mainland Europe.
The full preliminary agenda, as well as details on registration and all aspects of the Conference, can be found at www.nafems.org/uk2010