NAFEMS World Congress 2007 – Registration Now Open
Secure your place at THE International Congress on Simulation Technology for the Engineering Analysis Community
GLASGOW, UK, JANUARY 23rd 2007 - NAFEMS, The International Association for the Engineering Analysis Community, has opened registration for its 11th International Conference to be held in Vancouver, Canada, on May 22nd -25th 2007.
The Congress will bring together world leading industrial practitioners, consultancies, academic researchers and software developers with a common interest in engineering analysis. NAFEMS are proud to announce ABAQUS/SIMULA as Principal Sponsor of the 2007 Congress.
Simulation is now established in many engineering companies as part of their product development process. Whilst the Congress will cover many aspects of the use of simulation, a particular focus will be how the appropriate deployment of simulation can lead to a further competitive advantage through helping to stimulate innovation.
NAFEMS' Largest Ever Congress
The NAFEMS World Congress 2007 is shaping up to be the largest and most successful NAFEMS event ever. Over 200 abstracts were submitted from around the globe, and the final list of over 150 papers can be found on the Congress website, www.nafems.org/congress .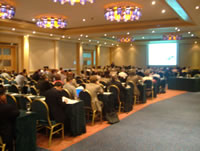 The Congress will cover all aspects of engineering analysis and simulation, including FEA, CFD, BEM, MBS, Molding, Virtual Reality, and many others. Speakers come from across the globe, and from industry, academia and software vendors, to ensure that attendees will have access to the widest ranging program possible.
As well as the main technical tracks, the NAFEMS World Congress will also give attendees access to a comprehensive program of training courses, workshops, seminars and meetings, which are open to all. These include sessions on Multiphysics, High Performance Computing, Simulation Education and Model Quality, as well as courses on Advanced FEA and Verification and Validation. There will also be active involvement from ASME and AIAA, ensuring that the NAFEMS World Congress is an unmissable date in the simulation calendar.
Keynote Speakers
Keynote speakers come from a wide-range of industrial and academic backgrounds, giving attendees the opportunity to gain a vital insight into the state-of-the-art and state-of-practice in the simulation world.
Mark E Westphal Lockheed Martin, USA
Thomas J Lange Proctor and Gamble, USA
Daniel J Inman Virginia Polytechnic Institute and State University, USA
Rodney Dreisbach The Boeing Company, USA
Mark Cross University of Wales , UK
Topics
A full listing of the topics being covered, papers being presented, and information on the venue and location can be found at the Congress website, www.nafems.org/congress , where online registration is also available.
NAFEMS are proud to have ABAQUS/SIMULA involved as Principal Sponsors of the Congress – additional sponsorship comes from UGS, Altair Engineering, ANSYS, Comsol and Fraunhofer SCAI.
The NAFEMS World Congress 2007 will be THE International Congress on Simulation Technology for the Engineering Analysis Community – make sure you are part of it.