NAFEMS North America – Setting the Benchmark
We have heard you, LOUD and CLEAR!
Over the past few months, you may have noticed a resurgence in the activity of NAFEMS in North America (NA). In January 07, NAFEMS NA held the organization's first webinar entitled NAFEMS Discovery . With the immense success of the "Discovery" webinar, NAFEMS decided to continue the use of webinars as an additional means to communicate with its members worldwide in order to disseminate the most up-to-date information.
Following the success of the "Discovery" webinar, NAFEMS NA held a second webinar in February based on the Simulation Driven Design Benchmark Report, conducted by the Aberdeen Group. More than half of our North American membership base attended this informative and much-desired event.
So, how do you follow-up with an event that delivered such valuable information to over 50% of your region's membership base? One option is to present on a ground breaking topic, specifically "Simulation-Supported Decision Making." In March, 2007, Gene Allen with MSC Software Corporation presented on this revolutionary topic, also known as Stochastics, bringing together more than three quarters of our North American membership base. One particular reason for celebrated success of this webinar can be attributed to NAFEMS newly created Stochastics Working Group.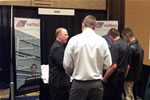 In March, 2007, NAFEMS made its North American user conference debut at the Engineous Software International Symposium & Workshops: Innovation by Design. This conference was an excellent means for our organization to interact with non-members and, more importantly, reconnect with our current members. In fact, this conference provided an opportunity to reach out to the worldwide engineering analysis community.
We are delighted to announce the recent appointment of Dr. Daniel Inman to NAFEMS North American Steering Committee (NASC). Current members of the NASC include:
Dr. Rodney Dreisbach, Chairman
Mr. Tom Curry
Dr. David Hibbitt
Dr. Daniel Inman
Mr. Edward Ladzinski
Dr. Dennis Nagy
Dr. Ahmed Noor
What activities are planned for NAFEMS in North America?
The biennial NAFEMS World Congress will be held in Vancouver, Canada from May 22nd - 25th, 2007. As many of you already know, the NAFEMS World Congress has been the premier international event focusing primarily on engineering analysis and simulation. In addition to the traditional conference sessions, the World Congress this year will also include a series of workshops, roundtable discussions, and several opportunities to learn about the latest developments in the technology, and how they can be applied to real world practical applications. For more information, please be sure to visit the NWC07 website.
This Fall, we are planning a workshop on Simulation Data Management to be held in Detroit, MI. On a global basis, companies are reducing their dependence on physical prototyping and increasing the use of digital simulation. Today, many of these manufacturers are facing tremendous challenges related to the storage and retrieval of simulation data. Simulation Data Management (SDM) provides a mechanism for the storage, management, and retrieval of this performance-related data. This workshop addresses this breakthrough technology by helping participants better understand the benefits gained from implementing an SDM system and how to save time, reduce development costs, and improve time-to-market. Please be sure to register your interest on our website at: /events/nafems/2007/SDM .
NAFEMS has been given the opportunity to present on the many benefits associated with membership in our organization at three upcoming conferences:
UGS Connection Americas 2007 Users Conference, which will be held in Long Beach, CA on April 23rd – 27th, 2007
COE 2007 Annual PLM Conference & Technifar, which will be held in Las Vegas, NV on April 29th – May 2nd, 2007.
IBM CAE Symposium, which will be held in Detroit, MI on May 9th, 2007.
Be sure to check the website regularly for latest information on our monthly webinars and other planned activities to be held throughout North America.
In North America, our objectives are to promote COLLABORATION, stimulation INNOVATION, maximize PRODUCTIVITY, and implant QUALITY. In order to achieve this, we need to hear from you. If there is a particular topic of interest which you believe is important – let us know. Contact Matthew Ladzinski with any suggestions for future North American activities.