NAFEMS Annual Report, AGM and Technical Seminar
The 2007 NAFEMS AGM will take place at The European Space Agency, Noordwijk, The Netherlands, on Thursday December 6th starting at 15:45. The AGM will be held after a technical seminar entitled "Engineering Analysis Quality, Verification and Validation". Registration for both the seminar and the AGM is currently available from the NAFEMS website, www.nafems.org , and is free of charge for both events.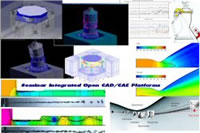 A copy of the NAFEMS 2006/2007 Annual Report is currently available for all NAFEMS members to download from the mynafems section of the website. An AGM agenda, as well as nomination forms for Council candidates, are also available for members to download.
Engineering Analysis Quality, Verification and Validation - Technical Seminar
This FREE seminar brings together a number of key players in European aerospace engineering in order to get an overview of the status of engineering analysis quality, verification and validation for CAD/CAE.

The objectives are:
To provide an occasion for dissemination of achievements, development work and plans;
To identify the main bottlenecks in today's mechanical engineering analysis and simulation landscape;
To identify improvement targets to be met in the mid-long term - e.g. 5 years from now;
To discuss potential modes of cooperation or projects for research and development (in ESA, EU and other frameworks).
In order to focus the presentations and discussions, aerospace mechanical engineering will serve as the primary application domain for examples. However, it is expected that the majority of issues related to the objectives are quite generic and exist across all industrial sectors.

The following points have been identified as particularly relevant:
requirements and operation of quality management systems for engineering analysis and, more particularly, their translation into rules, guidelines and checks on engineering mathematical models;
ensuring that the analysis is fit for purpose e.g adequate building, execution and archiving of models and choice of analysis methods;
justifying modelling choices in a traceable and consistent way;
managing at organisation/team level the training in numerical methods, modelling and transfer of knowledge.
FREE registration for both the seminar and AGM is available from the ESTEC website here.