NAFEMS World Congress 2009
Sponsorship and Exhibition Opportunities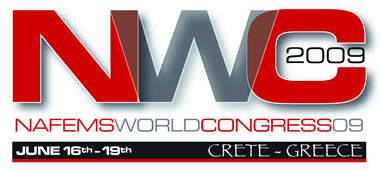 Glasgow, UK, August 12th 2008 – NAFEMS, The International Association for the Engineering Analysis Community, today announced details of the sponsorship and exhibition packages available for the NAFEMS World Congress 2009 (NWC09), which will take place on June 16th -19th 2009 on the island of Crete, Greece.
NWC09 will be THE International Congress on Simulation Technology for the Engineering Analysis Community. The event will bring together world leading industrial practitioners, consultancies, academic researchers and software developers with a common interest in engineering analysis.
"Simulation is now established in many engineering companies as part of their product development process." , commented Tim Morris, CEO at NAFEMS. "Whilst the conference will cover many aspects of the use of simulation, a particular focus will be how the appropriate deployment of simulation can lead to a further competitive advantage through helping to stimulate innovation."
"The last World Congress held in Vancouver in 2007 attracted in excess of 250 delegates from across the globe , every one of them involved in engineering simulation." Mr Morris continued. "There is no other independent event which can provide access to a highly-focussed group of potential customers for the products and services of software and hardware vendors, consultancies and service providors."
In the past, hardware and software vendors, large and small, have sponsored the Congress, including ALTAIR, ANSYS/FLUENT, CD-ADAPCO, COMSOL, DASSAULT SIMULIA, FRAUNHOFER SCAI, IBM, ICON, MSC.SOFTWARE and SIEMENS PLM SOFTWARE to name but a few. Sponsors already confirmed for NWC09 include ANSYS and BETA CAE.
"Getting involved with the NAFEMS World Congress demonstrates a company's commitment to industry standards, innovation and collaboration." commented Roger Oswald, Congrees Manager. "By supporting the Congress, companies send the message to potential customers that they are at the forefront of simulation technology, methods and standards, and wish to remain there."
Interested parties can select the package which is most appealing from the numerous sponsorship and exhibition opportunities which are available. A summary of these as well as the benefits each option provides can be found at the congress website, www.nafems.org/congress . All of the options include a booth in the exhibition area, which is a large airy space adjacent to the main meeting rooms where delegates will be served with refreshments and mingle with one another throughout the duration of the conference.
Places are limited, so companies should contact NAFEMS as soon as possible to ensure that your company is part of the International Congress on Simulation Technology for the Engineering Analysis Community.
Full details can be found at www.nafems.org/congress