Using FEA in Geotechnical Engineering
NAFEMS Seminar, September 17th 2008, London, UK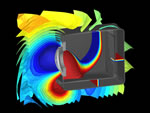 This seminar will promote the understanding and use of finite element analysis in geotechnical engineering. The event pools the knowledge of leading players in this field to provide attendees with guidance on numerical methods and the use of finite element analysis.
The use of finite element analysis techniques in geotechnical engineering is now more widespread than ever before. For example, simulation and modelling are frequently being used to form a clearer view of phenomena such as soil behavior and stage excavation which, until recently, was more of a research topic. Finite element analysis tools are being constantly refined and, in conjunction with the development of the related techniques and methods, these tools are assisting engineers in making their predictions as realistic as possible.
To register for this event, click here to visit the event registration pages.
Who should attend
The seminar will be of interest to practising engineers, such as:
Geotechnical Engineers
Civil Engineers
Structural Engineers
Environmental Engineers
Consultants
Researchers and Academics
Why should you attend
Hear first-hand about the application and use of finite element analysis tools in industry – stay up to date with their possibilities and requirements.
Discuss the latest thinking on applications such as slope stability, foundation, tunnelling, piling and Eurocode.
Hear about the various techniques used on today's exciting projects.
Benefit from an unrivalled networking opportunity.
Debate the way forward for collaborative working in association with NAFEMS.
Agenda
09:30 Coffee & Registration
10.00 Welcome and Introduction - Turqui Kharchi, Wilde FEA Ltd
Does 3D Finite Element Analysis in Geotechnics Always Provide Added Value?
Anton Pillai, ARUP
The Application of Numerical Modelling to the Challenges of T5 Substructures
Yu Sheng Hsu, Mott MacDonald
Some Recent Applications of FEA
Andrew Mar, Coffey Geotechnics
11:40 Coffee Break (available in the exhibition area)
Finite Element Modelling of Risk and Variability in Geotechnical Engineering Michael Hicks, Manchester University
Design of Contiguous Bored Pile Walls in London Clay: Subgrade Reaction vs Finite Element Design, Total Stress vs Effective Stress- Implications for the Design
Aleksander Spasojevic, Gifford Ltd.
13:00 Lunch
Modelling Piles and Rigid Inclusions in Mexico City Soft Soils
Juan Rodriguez, University of Mexico
The Use of Finite Element Analysis for the Foundation Design of the Burj Dubai Tower
Catherine Murrells, Hyder Consulting
Panel Debate & Discussion Forum - Refreshments available
16:00 Close
---
To register for this event, click here to visit the event registration pages.
Venue
Royal Institution of Naval Architects
10 Upper Belgrave Street
London
SW1X 8BQ
Tel: +44 (0)20 7235 4622
Website: www.rina.org.uk