NAFEMS Nordic Regional Summit 2008 - Registration Still Open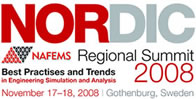 With less than seven days to go until the 2008 NAFEMS Nordic Regional Summit 2008, registration is still open to all interested parties.
The Summit will be held in Gothenburg, Sweden, on 17th & 18th November 2008. Entitled Best Practises and Trends in Engineering Simulation and Analysis, the Summit will give delegates an unrivalled independent insight into the current best practices and state-of-the-art in FEA, CFD, MBS, SDM and associated technologies, providing the most comprehensive overview and trends of the technology available.
An outstanding agenda has already been announced, with presentations from major industrial users of simulation, such as SAAB, Cummins, Volvo and Tetrapak, all major software vendors including Altair, MSC.Software and LMS, as well as a strong representation from the academic world.
The two-day conference aims to increase awareness and provide a discussion forum for topics that are important and relevant to engineering industrialists and academics.
If you are an analyst, engineer, team leader or manager that has a responsibility for ensuring that a fit-for-purpose engineering solution is obtained from the use of modern simulation software, then you should attend.
The event is open to both members and non-members of NAFEMS, with members able to attend the event for free , as part of their membership benefits package.
A full agenda, as well as online registration and information on Sponsorship and Exhibition opportunities, is available from the event pages by clicking here.