NAFEMS World Congress 2009 - Be Part of it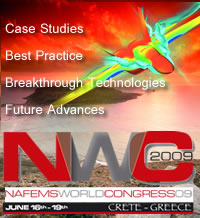 The NAFEMS World Congress is the only truly independent event which brings together the major players in the simulation world for three days of cutting-edge presentations, discussions and networking. For the past twenty-five years, the Congress has brought together the leading minds in the simulation and analysis world, from industrial practitioners, consultancies, academic researchers and software developers. The Congress has become a fixture for the simulation community, and NWC09 promises to be the largest and most successful event of its kind.
One Event - Three Days - A Wealth of Tangible Benefits
We understand that the current economic climate makes it difficult to justify and approve funding for education/training expenses. However, the technical education and information presented at this conference provides a wealth of practical education in just four days that you can implement immediately upon your return to the office. This will not only enhance your skills as an employee but it will help you provide even more value to your company.
This biennial event, organized by a worldwide team of users in various industry sectors from the NAFEMS community, will address case studies, best practices, breakthrough technologies and future advances in the engineering analysis and simulation area. You will have the opportunity to choose from more than 150 technical presentations, as well as discussion sessions, workshops and parallel activities, selected and led by world-renowned experts in the industry.

The benefits of attending the Congress are clear to all those involved in simulation, but to help you convince your superiors that the event will benefit your organisation in a very real and tangible way, we've put together a justification letter which is available to download from the Congress website.
Places are filling fast for this unique cutting-edge event, which is the only truly independent international conference dedicated to analysis and simulation.


Invited Speakers
Jan Leuridan

Executive VP & CTO

LMS International

Alain de Rouvray

Chairman and CEO

ESI Group

Bruce Engelmann

Chief Technology Officer

Simulia
Keynote Speakers
Additional Workshops & Sessions