Relaunched Benchmark Magazine Available to Download
The newly relaunched Benchmark -
the international magazine for engineering analysts and designers - is now available to download.
We're excited to offer the digital edition of the magazine for free to the simulation community for the first time to celebrate the relaunch.


As well as all the regulars such as 'What's On', 'NAFEMS News' and 'The CAE Guy', the cover article in this month's issue 'Carrying a Torch for FEA' looks at simulating the manufacturing process for the 2012 Olympic Torch.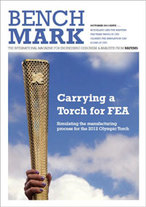 Also in this issue...
MODELLING LIKE THE MASTERS

THE THIRD WAVE OF CFD

CLOSING THE SIMULATION GAP

ICONS OF CFD
In this issue we're introducing our fresh new look as well as a new regular columnist, Al Dean, who some of you may know from his work on DEVELOP3D. We're looking forward to Al's insight and comment from a fresh perspective.
Download your copy here.
Details
Event Type: News
Location: Glasgow UK
Date: October 9, 2013