First NAFEMS Seminar Announced for Benelux Region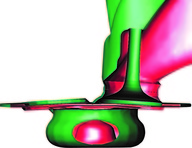 NAFEMS is delighted to announce its first seminar in the Benelux region as part of the organisation's continued international expansion.
Entitled 'Simulation & Analysis for Modern Composite Applications' the event will take place on 11th December 2013 in Maastricht, The Netherlands.
"NAFEMS has historically had a strong membership presence in this region", commented David Quinn, Head of Marketing & Communications at NAFEMS. "In conjunction with our existing regional groups and event programmes, the organisation is continually monitoring which areas around the world are engaging with analysis and simulation, and looking to produce an event programme to meet the needs of the entire community. We're delighted to be moving forward in the Benelux region, and hope that this initial event sparks even more interest in NAFEMS in this area."
NAFEMS is organising this seminar as a companion event to the UK seminar on the same topic, which brings together experienced practitioners in composites analysis, offering insight into the best approaches for obtaining and validating composites material properties, selecting and using appropriate failure criteria, and establishing robust analysis approaches for modern composites design.
In 2012, NAFEMS conducted a survey into the common practices and issues related to the analysis of structures made from composite materials. This event has been developed as a result of the survey in which a significant proportion of the respondents cited material properties as their main area of concern, followed closely by the difficulties of modelling failure and selecting appropriate failure criteria.
Topics covered:
Derivation and interpretation of material properties from experiment
Creation and maintenance of material models and property databases
Specific material properties required for different constituents and behaviours (fibre, matrix, interlaminar, crush), in different loading regimes.
Analysis approaches
Account of imperfection, tolerance, variability.
Short Fiber Reinforced Plastic (SFRP)/Injection Molding
Discontinous Long Fiber (DLF)/Compression Molding
Continuous Fiber Reinforced Plastics (CFRP)/Draping
Who Should Attend
The seminar would be of interest to engineers involved in the design and analysis of composites structures, as well as consultants and researchers who are involved in material research, supporting the design process or developing methods for more accurate prediction of composite behaviour.
Click here for full details of the seminar, including registration information and agenda.
Details
Event Type: News
Location: Glasgow UK
Date: October 10, 2013