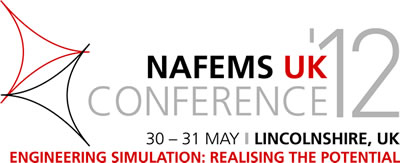 As the most highly anticipated event in the UK simulation calendar, the NAFEMS UK conference 2012 will take place during the 30-31st May in Lincolnshire, with this year's set to be the best in the organisation's history.
Bringing together leading industrial practitioners, consultancies, academic researchersand software developers in a neutral forum, the two day conference will focus on existing best practices as well as state-of-the-art FEA, CFD and associatedtechnologies. The event aims to increase awareness and provide a discussion forum for topics that are important and relevant to engineering industrialists and academics, with an educational theme throughout.
 "With a high level of membership within the region, the UK conference always promisesto be an exciting forum with a wide range of delegates. This year's educational  theme makes the 2012 conference an event not to be missed."
- Tim Morris, CEO of NAFEMS
Taster Courses
As part of this year's event, NAFEMS is pleased to offer several 'taster' courses duringthe 2012 conference. Each of these courses will be FREE to attend for delegates and will provide an introduction to each of the following topic areas:
Fatigue & Fracture in FE Analysis

Dynamic FE Analysis

Composite FE Analysis

Non-linear FE Analysis

Optimisation in FE Analysis
These courses will be led by Tony Abbey & Adib Becker who combined have over 40years' experience in simulation training.
Presentations
In addition to the exciting  taster courses,the UK Conference has two highly anticipated keynote speakers lined up: Dr Pat Symonds of Neutrino Dynamics and Robin Wilson of the Technology Strategy Board.
Pat Symonds brings his wealth of Formula 1 experience to the NAFEMS UK Conference.As F1 is all about time/turnaround of new designs, Pat will give a uniqueinsight into the application of simulation in this fast-moving arena andshowing how CFD can lead to competitive edge, speaking from his experience withsome of the largest motorsport teams in the world.
As Lead Technologist for High Value Manufacturing at the Technology Strategy Board, Robin Wilson brings 35 years of technology development in Automotive Engineering experience. Robin's presentation will focus on innovating products and services for growth, providing an understating as to how the Technology Strategy Board supports UK manufacturers.
In addition to these keynote presentations, over 40 presentations will take place over the two days with 15 topics being covered, making the UK conference an event not to be missed.
Register
You can find out more and  register for the only independent, UK conference dedicated to analysis and simulation technology here.