Keynote Speakers Announced for NWC13




International Line-Up of Keynote Presenters Announced for the Only Independent, Global Conference Dedicated to Analysis and Simulation
NAFEMS has announced a strong international line-up of keynote speakers for its 2013 World Congress taking place in Salzburg, Austria on 9-12 June.
The 14th World Congress organized by NAFEMS, brings together a wide range of leadingin dustrial experts and academic researchers, to provide a unique insight into current best practice and future state-of-the-art in engineering simulation.
"The keynote speakers for this year's Congress, truly represent the global nature of the event. We are delighted that the some of the World's leading minds in analysis and simulation have agreed to speak at the Congress and share their knowledge and expertise with delegates", commented Tim Morris, NAFEMS CEO. "Their combination of technical expertise,academic knowledge and industry experience ensures delegates an unrivalled insight into the use of analysis and simulation today, and developments for the future".
The keynote presenters for NAFEMS World Congress are confirmed as:
Ralph Sundermeier -Volkswagen, Germany


Koichi Ohtomi -Toshiba, Japan


Harald Hasselblad -Volvo, Sweden


Grant Steven- University of Sydney, Australia


Steven Sirman- Tata Steel Automotive, UK


Frank Popielas- Dana Corporation, USA


Jérôme Buffe- Thales Alenia Space, France
The theme of the upcoming Congress is a 'World of Simulation' with delegates attending from across the globe to be part of the only independent global simulation and analysis conference. NAFEMS World Congress provides a unique forum, unlike any other, where the international simulation community converge to share experiences and explore cutting-edge uses of the technology.
After a phenomenal response to the call for papers and an outstanding line-up of keynote speakers, this year's Congress is shaping up to be the biggest and best yet.
The 2013 Congress will also represent great value for attendees – offering two-conference in one. The 1st International SDPM Conference has been launched, and will run alongside the NAFEMS World Congress in 2013 with Congress delegates having access to both.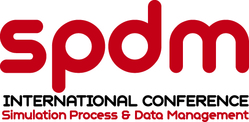 Further information on conference themes, delegate information and exhibition & sponsorship opportunities is available at www.nafems.org/congress,where a full agenda will also be announced shortly.
comments powered by Disqus