NAFEMS Chairman awarded Fellowship in the British Royal Academy of Engineering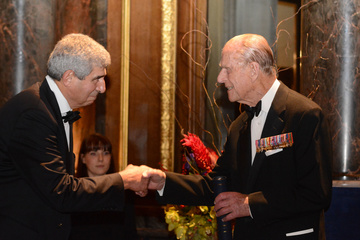 Image: HRH Prince Philip the Duke of Edinburgh, Patron of the British Royal 
Congratulations to Prof. Stravrinidis for this distinguished award
Costas Stavrindis, NAFEMS Chairman, has been awarded a Fellowship in the British Royal Academy of Engineering.
The Fellowship was awarded for his "Distinguished and internationally recognised technical contributions and leadership in astronautics. His eminent research and team management has led to major advances in the engineering of large space projects. His long-term vision is recognised as a key element in advancing the state-of-the-art in European astronautics". 
The Fellowship scroll of the Royal Academy of Engineering was presented to Prof. 
Stavrinidis by HRH Prince Philip the Duke of Edinburgh, Patron of the British Royal 
Congratulations to Prof. Stravrinidis for this distinguished award.
Dr Stavrinidis was elected  Chairman of NAFEMS in 2004. 

Read more about the NAFEMS  Chairman