NAFEMS International Journal of CFD Case Studies: Call for Contributions
NAFEMS International Journal of CFD Case Studies: Call for Contributions

Submissions are invited for publication in the next edition of the NAFEMS International Journal of CFD Case Studies.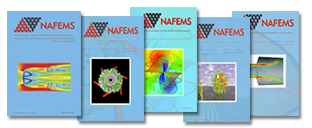 The purpose of the Journal is to disseminate information to the wider NAFEMS community who are interested in the industrial application of CFD showcasing best practice through case studies.  Any Journal is only as good as the papers it publishes, so the Journal needs contributors from all sectors who see the importance and benefit of having their work published and used by fellow engineers.
Authors will be provided with detailed guidance but in summary, papers published in the Journal should include;
A full description of the industrial relevance of the case study and why it is being performed;


A full description of related experimental or analytical data together with statements as to their quality and accuracy;


A description of the CFD model which would allow the interested reader to fully appreciate how it simulates the given industrial case;


The CFD model details cover the flow physics, geometry, meshing, boundary conditions, fluid properties and the solving processes.;


A set of results which are presented and discussed to facilitate the reader's appreciation that the work has been performed well and to a high standard. 


A very useful and important feature of a case study is a section which covers "lessons learned".
All papers will be reviewed by the NAFEMS CFD Working Group prior to acceptance. The editor, Prof. Don McGlinchey of Glasgow Caledonian University, will be pleased to answer any questions on the submission or review process, or indeed any general questions about the Journal. Prof. McGlinchey can be contacted at cfd.journal@nafems.org