NAFEMS eLearning Program Continues with Basic Dynamic FE Analysis Course

Many problems facing designers and engineers are dynamic in nature. The response of a structure cannot be simply assessed using static assumptions.
NAFEMS 'Basic Dynamic FE Analysis' eLearning Course
addresses this in a four week course, commencing on September 18th.
The nature of your problem may be to understand the resonant frequencies of your design, so that key driving frequencies such as equipment rotational speed, acoustic or external pressure frequencies, ground motion frequency content or vehicle passing frequency.
Your design may face external driving forces from adjacent components; cams, push rods, pistons or from vehicle input sources such as a bumpy road, wave loading, air pressure or inertial forces.

Whatever the nature of the challenge, NAFEMS 'Basic Dynamic FE Analysis' eLearning Course seeks to break down the dynamic problem into clearly defined steps, give an overview of the physics involved and show how to successfully implement practical solutions using Finite Element Analysis.
Who Should Attend?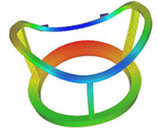 This course is aimed at practicing engineers who wish to learn more about how to apply finite element techniques to dynamic analysis in the most effective manner. Ideally a student should have some experience of FE analysis, but this is not essential. The material that is presented is independent of any particular software package, making it ideally suited to current and potential users of all commercial finite element software systems.
This course is a must for all engineers aiming to use FEA as a reliable predictive tool for dynamic analysis.
Why eLearning?
NAFEMS eLearning was established in 2009 and over the last three years has gained a fierce reputation for quality and effective training that fits around busy workloads. All of NAFEMS eLearning courses are accredited by NAFEMS and led by leading figures in the worldwide engineering analysis community. All courses provide live instructor-led sessions to allow attendees an opportunity to interact with the course instructor.
Benefits of eLearning include:
Increased productivity
Reduced downtime
Lower costs compared to 'traditional' training
Flexibility to fit around busy work schedules
Ability to access from anywhere in the world
Registration
Full details of the course and how to register can be found at:
Details
Event Type:
Location:
Date: September 13, 2012