Latest NAFEMS Publications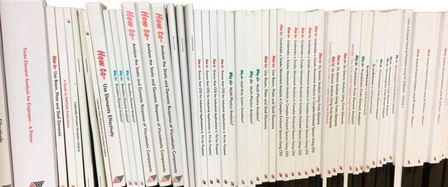 The following publications have been published recently and sent to our members.

This book aims to provide guidance on the usage of commercially available finite element analysis tools for the solution of practical dynamic engineering problem. The book starts by looking at the fundamental building block of dynamic analysis with a review of normal modes analysis before going onto to cover a wide range of topics including damping, transient response analysis and frequency response analysis. The book contains a comprehensive selection of practical examples to demonstrate the analysis techniques that are discussed.

Granular material plays an important role in industries such as civil engineering, pharmaceutical manufacturing, mining, agriculture or process engineering. Almost all of these industrial applications rely on the transportation and storing of granular materials. However, estimates indicate that factories seldom reach their full capacity while processing granular material in one or another way. This is due to the fact that granular material performs differently from standard and familiar forms of matter which is due to the existence of static friction and the generally inelastic nature of collisions among individual particles. Hence, a strong demand exists to understand particulate technology. This publication describes the DiscreteElement Analysis method and emphasizes the need for more advanced Discrete Element Analysis in order to overcome some of the difficulties involved in processing granular material. The publication includes best practise guidelines to allow a faster penetration of the subject and steer readers around common pitfalls.

The NAFEMS Benchmark Challenge initiative was instigated in the late summer of 2014 with the motivation being to provide an opportunity for increased interaction between NAFEMS and the readership of the Benchmark Magazine. The concept was to offer a challenge printed in one edition of Benchmark with the official solution or response being printed in the next edition of the magazine. In addition, a blog was added to the NAFEMS website to allow readers the opportunity to collaborate and to ask questions of NAFEMS. This book records the four NAFEMS Benchmark Challenges that were published in the BenchmarkMagazine in 2015 together with their solutions and some additional supplementary information in the form of two appendices that were also published in the magazine. It should be noted that the challenges and responses as presented in this book may vary slightly from those presented in the Benchmark magazine. In particular with more space available in this book some of the responses have been expanded to draw additional value out of the challenge.

What is… series
The current publication shipment also contains three new titles in our "What is… series". The series is intended to provide a brief introduction to a method or a solution technique and to debunk some of the jargon surrounding our industry. 
The new titles in the series can be found below and can be downloaded for free: