Anne Creechan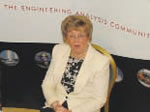 After over 20 years of immeasurably loyal and dedicated service with NAFEMS, Anne Creechan left her role as Conference and Administration Manager at the end of September.
It's fair to say that, to many people, Anne simply was NAFEMS. From the very outset, she has been heavily involved in the coordination and administration of our activities ranging from local working group meetings to international conferences. From NAFEMS' origins at the National Engineering Laboratories in East Kilbride, to the international, non-profit organisation it is today, Anne has been hard at work in the background, ensuring that NAFEMS has been in the position to continue to grow and flourish over the years.
Irreplaceable is a word which is used far too often, but in Anne's case, she is simply that. That combination of experience, knowledge, good humour, vivacious personality and impeccable organisational and management skills is one which will never quite be replaced like for like.
She has outlasted many chairman, numerous chief executives, and countless support staff – her hard work and determination have ensured that she leaves behind an internationally respected organisation – one which is growing faster than ever before, due in no little part to her own efforts.
We are sure that, with her liking for farflung holidays and exotic destinations, Anne's future will be one which is full of new adventures and excitement – and she deserves it.
Anne – from the staff and members of NAFEMS, and all the readers of BENCHmark, we wish you a happy, enjoyable, and above all relaxing future.
Thanks for the memories!
GLASGOW, UK, OCTOBER 1ST 2005