Rodney L. Dreisbach Recognised in 1st Class of NAFEMS Technical Fellows
Dr Dreisbach received the award at CAASE18 in Cleveland, Ohio, in recognition of his continued outstanding technical contribution to NAFEMS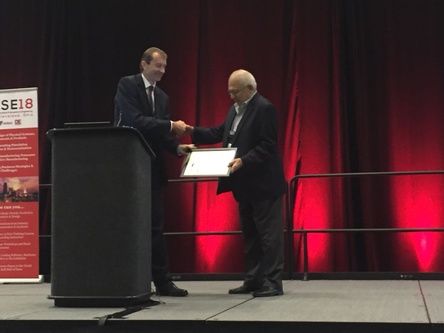 Dr Rodney L. Dreisbach, member of the NAFEMS Council of Management and chairman of the NAFEMS Americas Steering committee, and part of numerous NAFEMS Working Groups and initiatives, has today been recognised in the 1st Class of NAFEMS Technical Fellows. This new award was launched at CAASE18 in Cleveland, Ohio, with aim of acknowledging the technical contribution made by a handful of individuals to the engineering simulation community.

Rod has been a part of NAFEMS for many years, and has worked tirelessly, on a voluntary basis, in numerous roles in order to advance the organisation both in the Americas and on a global basis.
A regular face at the NAFEMS World Congress, as well as NAFEMS Americas conferences and events, Rod continues to contribute massively to the organisation, and this award is an acknowledgement of this significant effort.
We thank Rod for everything he has done in the past for NAFEMS, and for his continued ongoing contribution!