Call for Papers - Simulation Versus Test 2007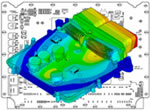 NAFEMS are inviting contributions for the Simulation Versus Test seminar, to be held in Nottingham, UK, on November 7th 2007. Simulation Versus Test, held in partnership with NAFEMS and BSSM, is the fourth in a series of seminars which have now become an establised annual event in the simulation calendar. Once again the event will provide attendees with technical papers of genuine interest and educational value, a packed program including lively discussion and a useful exhibition area.
The real power of simulation and testing can only be truly unleashed if the two methods are used in conjunction with one another. The seminar will aim to provide the attendees with a thorough overview of how modern simulation methods compare against data derived from experimentation, from a range of industrial case studies..

Call for Presentations
Presentations are sought which will provide practical case studies relating to the theme of the seminar. The organisers are seeking contributions which illustrate the use of both simulation and testing, with a comparison of the results and/or the different techniques.
Presentations on applications where hybrid experimental and numerical approaches have been used successfully are particularly welcome.
Examples where differences have been found between simulation and test and where the cause of the discrepancy has been investigated would also be especially welcome.
If you are interested in making a presentation at the event, please register your interest by completing the online form here.
Who will attend?
This seminar will be of interest to analysts, engineers and managers that have a responsibility for ensuring that a fit-forpurpose engineering solution is obtained from the use of modern simulation software. It will be recommended for all engineers/designers concerned with stress prediction and test of real-life structures. It is the acid test of any computer based simulation to see that the results support what is observed in practice or measured on test.

Exhibition
A small number of exhibition spaces will be available for vendors of software, hardware and associated services to
demonstrate their wares and meet with the delegates. The cost of an exhibition stand at the seminar is £400+ VAT.
Please click here to visit the event page, for further information.