NAFEMS Supporting Simulation And Modelling 2016: Integration, Optimisation And Validation Initiative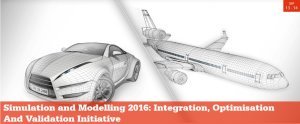 NAFEMS are delighted to be supporting the Simulation and Modelling 2016 Conference, being run by the iMechE in September 2016 in Birmingham.
Called the 'Third Industrial Revolution' by The Economist, the digitisation of manufacturing and the usage of High Performance Computing (HPC) is revolutionising how products are designed, tested and built. Aerospace and automotive engineers are developing the latest technology and reducing the
need for costly prototypes through Computer Aided Engineering (CAE) which is now an indispensable part of vehicle engineering.
To meet the needs and demands of the industries, the Institution of Mechanical Engineers will be addressing the topic with one-day dedicated to
Automotive and a second dedicated to Aerospace.
Simulation And Modelling 2016 will provide a unique opportunity to discuss the latest developments being made with computer aided and virtual engineering, and hear where advances are being made with integration, optimisation and
validation as well as increasing accuracy, reliability, speed and output.

Attendees will have the opportunity to engage with colleagues and peers in both Aerospace and Automotive industries, as well as meet simulation
software and hardware providers in the networking area. One day and two day passes are available.


BENEFITS OF ATTENDANCE:
Understand the latest developments and innovations in reducing costly physical testing through simulation and modelling
Take away cross-industry insights and understand where developments are being made in each sector
Overcome key industry challenges with integration, optimisation and validation
Network and engage with colleagues, peers and industry innovators from across Aerospace and Automotive in one location
DAY 1 AUTOMOTIVE HIGHLIGHTS:

Renault, Lamborghini and Jaguar Land Rover review the potential for further reduction of physical testing through simulation and the capabilities of current simulation solutions for co-simulation and full vehicle modelling
Understand how Scania are efficiently communicating from system to system and between workflows and the ability to automate simulation processes further
Learn how to sensibly optimise simulation for higher efficiency and effectiveness

Take away best practices from Ford for validating and testing models as well as how to gain confidence in simulation and overcome the many varying factors
DAY 2 AEROSPACE HIGHLIGHTS:

Review the simulation tools and systems in use and the future roadmap with Boeing and AMRC
Understand how Rolls-Royce will integrate multi-disciplinary simulations across legacy and commercial platforms and how Cobham plan to utilise simulation to optimise design and engineering
Determine what is the right level of fidelity and accuracy at the right stage of simulation and how representative simulations can be of real world scenarios with Boeing
Gain insights on data analytics in simulation modelling and model based system engineering

www.imeche.org/simulationandmodelling