UK 2014 Call for Presentations
NAFEMS programme of regional conferences will kick off in 2014 with events taking place in Sweden, Germany, United States, France and the UK.
NAFEMS is pleased to announce the call for presentations for the UK Conference, with calls for the other regional conferences expected in the coming weeks.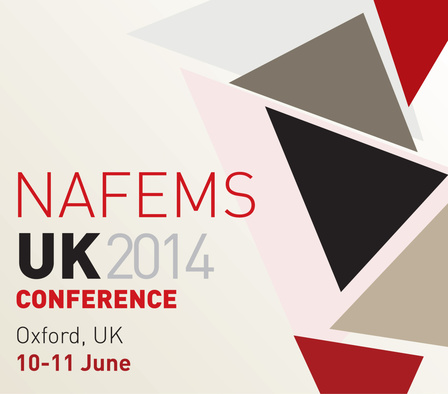 NAFEMS UK Conference 2014
Oxford, UK | 10-11 June
Accelerating the Future of CAE
What is the future for Computer Aided Engineering (CAE)?
Where is engineering analysis and simulation going?
Where should it be going, and how will we all help get it there?
What are the business, technological, and human enablers that will carry the past successful developments, applications, and business impact of CAE to higher levels during the next decade and beyond?
NAFEMS, the independent association for the engineering analysis community, is holding its 2014 UK conference on the 10-11 June in Oxford.

This two-day conference will focus on existing best practices as well as state-of-the-art in FEA, CFD and associated technologies –ensuring delegates receive a fully comprehensive overview of the technology available to them.
The conference will increase awareness and provide a discussion forum for topics that are vital to engineering industrialists and academics, offering attendees an unrivalled combination of industrial knowledge, expertise and forward-thinking to aid their deployment of CAE over the next few years.
Get Involved
NAFEMS openly requests presentations which provide case studies on the effective use of simulation in any given application.
Presentations from all areas of simulation can be submitted and will be considered for acceptance, however, contributions which highlight one or more of the themes below are particularly welcomed:
Simulation Driven Design

Pioneering Simulation Technology and Application

Simulation at the Conceptual Stage, before CAD

Engineering Analysis, Verification and Validation

Simulation Adding Value to Business

Simulation Data Management

Any other area of simulation…

In addition to the traditional themes, the conference will also introduce cutting-edge topics such as;
Systems Engineering

1D & 3D Integration
Multidisciplinary

Cost Modelling

Process Integration / Automation

You are invited to participate by telling the engineering analysis community how simulation is being used in your organisation and where you believe CAE is heading. The conference welcomes participation from every type of organisation – large and small, across all sectors.


The conference will also include a two-day workshop on Optimisation, and presentations are also invited which could be included in this track.
Submission Guidelines
In the first instance, abstracts of 300-600 words should be submitted for consideration by 10th January 2014. Abstracts must be clearly marked with presentation title, author's name, organisation, address, phone numbers and email address. Please use the template below to submit your abstract.
E-mail your abstract to uk2014@nafems.org
Authors whose abstracts are accepted will be asked to prepare an extended abstract (typically 2-4 pages) and a PowerPoint presentation - full written papers are not required.
NAFEMS prides itself on its independence and neutrality so we kindly request that submissions avoid any overt commercialism.
Find out more here.
Details
Event Type: News
Location: Glasgow UK
Date: October 30, 2013