Mr. Thomas C. Curry, P.E.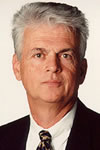 Executive Vice President,
Chief Marketing Officer
LMS International
LMS, International
April 1999 - present
Mr. Curry is Executive Vice President, Chief Marketing Officer and Member of the Board of Directors, working from offices in Leuven, Belgium and Huntington Beach, California, USA. He helps guide the company's growth in predictive computer-aided-engineering (CAE), physical prototyping and related services. He also helps define product strategies, identify key technologies and develop partner relationships.
As do all members of the LMS executive management team, Mr. Curry serves as the "executive sponsor" of certain strategic customer relationships.
The MacNeal-Schwendler Corporation (now MSC Software)
January 1990 - December 1998 (Including PDA Engineering )
President, Chief Executive Officer and Member of the Board of Directors, President and Chief Operating Officer of PDA Engineering and earlier, General Manager, Software Products Division. MSC is the source of NASTRAN, a leading FE structural solver and PDA Engineering, the source of PATRAN, a leading FE pre and post processor. Mr. Curry has years of experience helping businesses apply finite element technology to improve their products, and the product development process.
McDonnell Douglas
June, 1985- December 1989
Vice President, Marketing for the Manufacturing and Engineering Systems Division of the Computer Systems Company (included Unigraphics). I this role, Mr. Curry was responsible for the strategy and direction of one of the world's premier CAD systems and instrumental in the acquisition of Shape Data Ltd., the source of the Parasolid geometric modeling kernel.
Mr. Curry was also with CAD pioneer Auto-trol Technology, Denver, Co. and spent over 10 years in cryogenics, petrochemical and nuclear process plant design with Air Products and Chemicals, Allentown, Pa. He is a graduate civil engineer and completed a Stanford University Executive Management Course in 1993. He is a licensed professional engineer and land surveyor in the Commonwealth of Pennsylvania, USA (PE024036) and serves as a Director on the boards of OCULUS Technologies, Boston, Ma., and NOESIS Technology, Leuven, Belgium in addition to LMS International.