Dr. Ahmed Noor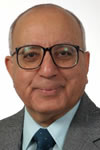 Eminent Scholar and William E. Lobeck Professor of Aerospace Engineering, Old Dominion University, Norfolk, VA. He is also the Director of the Old Dominion University's Center for Advanced Engineering Environments, funded by NASA in Hampton, Virginia. He is also adjunct Professor of Mechanical and Aerospace Engineering, University of Florida, Gainesville, and the Florida Space Research Institute Distinguished Scholar of Advanced Learning Systems. He taught at Stanford University, Cairo University (Egypt), University of Baghdad (Iraq), the University of New South Wales (Australia), George Washington University and the University of Virginia before joining Old Dominion University.
He is a Fellow of the National Institute of Aerospace (NIA) and of five professional societies: the American Institute of Aeronautics and Astronautics, American Society of Mechanical Engineers, American Society of Civil Engineers, the American Academy of Mechanics, and the U.S. Association for Computational Mechanics. He is a Founding Member of both the International and U.S. Associations of Computational Mechanics, and is a Past President of USACM.
His current professional activities focus on intelligent design and synthesis environments, advanced learning technologies, aerospace structures, structural and computational mechanics, multiscale modeling, simulation and visualization, and new computing systems.