Mr. Frank Popielas
Power Technologies Group, Dana Holding Corp.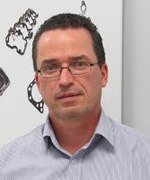 Currently
Manager of Advanced Engineering at the Power Technologies Group, Dana Holding Corp.
Responsible for:
Global CAE activities of the Division,
Special development of new advanced materials and generations of their products.
Lead of the Dana CAE Council
Responsible for:
Dana CAE strategy
Global coordination of CAE activities, technology and infrastructure
Background
Master of Science in Engineering at the Technological University in Moscow, Russia in 1994 with major on theoretical physics for metals and the thesis on High Temperature Super Conductors.
Started the carrier with Dana in 1994. Worked first in Germany before moving to the USA.
Detailed knowledge in:

powertrain for automotive and heavy duty applications, and testing, validation, design and simulation of it's components.
Simulation technology and software
High Performance Computing and it's architecture

Made several publications / presentations over the last few years in England, Germany, Japan, Russia and the USA in CAE, HPC, material development and product technology for sealing and shielding application.
Hold around 30 patents.