Genesis
Genesis is a fully integrated finite element analysis and design optimisation package. Delivered with its own environment, Design Studio1, Genesis provides a complete analysis and optimisation solution for companies wishing to adopt a CAE led approach to design.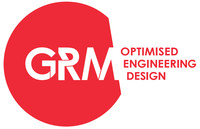 The benefits of Genesis include:
Reduces Cost and Improves Performance – by generating new designs based on user criteria such as mass minimization, frequency maximization, stress or displacement constraints and many more.


Reduces Engineering Time – Genesis has powerful embedded solvers such as our SMS eigensolver which speeds up solving time and is 2 to 5 times faster for small to midsize problems and 5 to 10 times faster for very large problems.


Innovative Designs Come to Life – robust designs can be realized as our optimiser, BIGDOT, can handle extremely large numbers of design variables. This allows an engineer to explore the entire design space with either, topology, topometry or topography optimisation.


Easy to learn - Requires no special knowledge of Optimisation Technology and Finite Element Analysis.
With the latest updates for Genesis 15 due to be released early 2016, GRM will be hosting update training throughout February and March. Click the links below to register or to see the updates from v14.0;
Further information: http://www.grm-consulting.co.uk/index.php/our-software/genesis