GLview Inova
GLview Inova is a powerful post-processor with advanced functionality for visualization, analysis, interpretation and presentation of FEA and CFD data.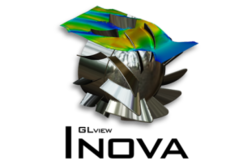 GLview Inova runs on almost any hardware, ranging from laptops and desktop computers to high-end workstations and HPC clusters, on both Linux and Windows. It supports most typical workflows in engineering organizations with heavy use of CFD and / or FEA software tools, including visualization and post-processing, verification and result inspection, interfacing with commercial FEA and CFD application, and uploading to private or public cloud.
For more information, see
ceetron.com/glview-inova
.