BOSS quattro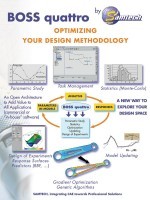 BOSS quattro is a complete MDO (Multi-Disciplinary Optimisation) environment which allows to explore your design space from simple parametric studies to automatic optimisation.

Your environment can be easily customized with native drivers-sripts files:

Interfacing with major CAD/CAE and FEA softwares (CATIA, SAMCEF, MSC, NASTRAN, ABAQUS...) ; 

Interfacing with house-code ; Excel Driver assure the management of data sheets like MS-EXCEL. 
BOSS quattro can help you to automate the model reconstruction for different values of selected parameters, launching the analysis and extracting results of interest. You will discover how easy it is to define constraints, bounds of parameters, objective fonctions to be minimised and launching the optimisation process...
The BOSS quattro optimisation algorithms allows to solve the most complex problems ; combined or not, the gradient algorithms (CONLIN, SQP, GCM, etc.) and the genetic algorithms give you more fast convergences to local and/or global optima.
If necessary, the different BOSS quattro applications can be combined to give the more powerful tools and to meet your request:
parametric studies ; 

design of experiments and response surfaces ; 

optimisation (shape, topology) ; 

computations of internal or external sensibilities (NASTRAN, SAMCEF Mecano, SAMCEF Stabi...) ; 

updating ; 

statistic studies (Monte-Carlo). 

http://www.plm.automation.siemens.com/en_gb/products/lms/samtech/boss-quattro.shtml