Marcus Reis
Engineering Simulation and Scientific Software Ltda.
VP Sales, Support and Services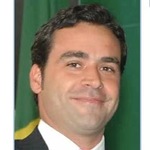 Marcus Reis is a co-founder of Engineering Simulation and Scientific Software Ltd.(ESSS), a leading South America company focused in bringing innovative multi-physics CAE solutions into the market. With a portfolio comprised of simulation software, consulting services, custom software development, training courses and technical support, ESSS is a Brazilian pioneer in the field of numerical simulation and scientific software development.
Since the beginning of ESSS in 1995, Marcus Reis has been involved in several activities. He started as software developer, but soon migrated to work with CFD consulting projects. Up to now he has built a team of 70 technical specialists working with several disciplines in the field of computational modeling (CFD, FEA, EMAG, MDO and DEM). He has been involved in more than 100 projects for key customers in several industries segments ranging from automotive, appliances and aerospace to miningand oil &gas. Meanwhile he also has initiated and developed the marketing, sales and technical support division of ESSS, which nowadays maintains key partnerships with leading companies in the South America territory such as VW, GM, Ford, Embraer,Whirlpool, Electrolux, Petrobras, Vale, IMPSA, Codelco, PDVSA and others.
Together with CENPES (PETROBRAS R&D Center) and SIMEC/EMC/UFSC(Computational Fluid Dynamics Laboratory from the Federal University of Santa Catarina) he is one of the organizers of CFDOIL (www.cfdoil.com.br); a traditional event for CFD software end users and developers of in-house codes, especially the ones involved in the modeling of complex multiphase flows in the oil&gas sector.Marcus Reis has a M.Sc. and Mechanical Engineering degrees from the Federal University of Santa Catarina where he participated in the research on numerical heattransfer methods for satellite thermal control. He is also currently getting a MBA degree from Fundação Dom Cabral, Brazil.