Travel and Hotel
Hotel room reservation
We ask you to reserve your hotel room as soon as possible (by September 24, 2021 at the latest) online or by using the reservation form (pdf). If you want to book for a bigger group or if you want to book outside the dates which are offered in the "Online booking quickfinder", please use the hotel reservation form (pdf).
Please note that the individual hotel cancellation policies applies (can be seen in the "Online booking quickfinder").
Hotel distances (all approximate!) to the Salzburg Congress Center
Sheraton Grand Salzburg - directly connected to the Salzburg Congress Center
Imlauer Hotel Pitter - Opposite the Salzburg Congress Center
Arcotel Castellani - 7 minues drive by car
arte Hotel - 10 minutes walking distance
Austria Trend Hotel Europa - 11 minutes walking distance
Hotel am Mirabellplatz - 8 minutes walking distance
Imlauer & Bräu - 4 minutes walking distance
Markus Sittikus - 4 minutes walking distance
NH Salzburg City - 8 minutes walking distance
Villa Carlton - 4 minutes walking distance
Weisse Taube - 18 minutes walking distance
Wyndham Grand - 12 minutes walking distance
Star Inn Premium - Gablerbräu 9 minutes walking distance
Star Inn Salzburg Zentrum - 20 minutes walking distance
Hotel Hohenstauffen - 10 minutes walking distance
Haunsperger Hof - 10 minutes walking distance
Motel One Salzburg-Mirabell - 10 minutes walking distance
Motel One Süd - 10 minues drive by car
Travel information
Located at the heart of the European continent, the city of Salzburg is quickly accessible from every point on the compass. Getting here and getting home again are made simple by excellent connections and non-stop flights to all major European airports, a modern frontier railway station just the other side of the German border, and a highly-developed and well-integrated motorway network.
Closest airports:
Salzburg Airport
Located just four kilometers from the city center, Salzburg's W.A. Mozart Airport (SZG) is the second largest airport in Austria. It has outstanding scheduled flights to the larger European cities and excellent connections to the hubs in Frankfurt, Vienna, London, Berlin, Düsseldorf and Istanbul. Direct flights to Salzburg are available, e.g. from Berlin, Düsseldorf, Hamburg, Cologne-Bonn, Frankfurt, Vienna, Istanbul and London. Salzburg's historic city center and the main train station can be reached in only 15 minutes from Salzburg Airport by taxi or public bus. From Salzburg airport, the trolleybus lines 10 (direction Sam) and 2 (direction Obergnigl) will take you to the centre of Salzburg's old town in 15 and 23 minutes respectively.
Vienna International Airport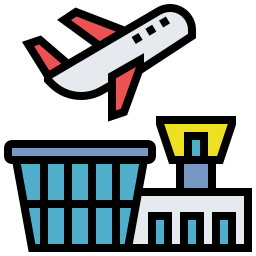 Thanks to Vienna International Airport (VIE), Salzburg is easy to reach for travelers from all over the globe. In just three hours and without having to change, you can ride the train from Vienna International Airport directly to Salzburg. Vienna International is Austria's biggest airport and a main hub for Austrian Airlines (AUA), a subsidiary of Lufthansa. Since December 2015, it has been possible to travel by train from Vienna-Schwechat Airport to Salzburg without having to transfer. The trip takes three hours. If you prefer to travel in by (rental) car, you can also reckon with a three-hour drive. When you leave the airport, first take the A4 autobahn, then get on the A1, which will bring you straight to Salzburg.
Munich Airport
Munich Airport is just a stone's throw from Salzburg. Travellers can get to Salzburg comfortably and conveniently in no more than three hours – in a car, by rail, with the Salzburger Mietwagen Service shuttle taxis. There are excellent rail connections from Munich Airport via Munich's Ostbahnhof that take visitors to Salzburg in around two-and-a-half hours. Rail connections can be viewed at www.oebb.at and at www.bahn.de. In a car, the approximately 180-kilometre drive takes around one hour and forty-five minutes. From the Walserberg border crossing to the Salzburg-Nord exit, no motorway toll sticker is required. You need a motorway vignette to use the motorway beyond that. This is available at the border.
Convenient Salzburger Mietwagen Service shuttle taxis: In around two-and-a-half hours the Salzburger Mietwagen Service shuttle taxis transport travellers straight from Munich Airport to their accommodation in Salzburg – then back again later. Guests are picked up and dropped off punctually at their airport terminals. The comfortable taxi-buses can seat up to 8 passengers, and single-person transfers can also be arranged on request. Bookings can be submitted up to 48 hours before the journey is due to commence. For more information – go to www.mietwagenservice.at
Please find more information about traveling at www.salzburg.info/en/travel-info