A Private Banquet at the Québec Parliament Building
Optional Dinner-Tuesday, June 18
Places are now full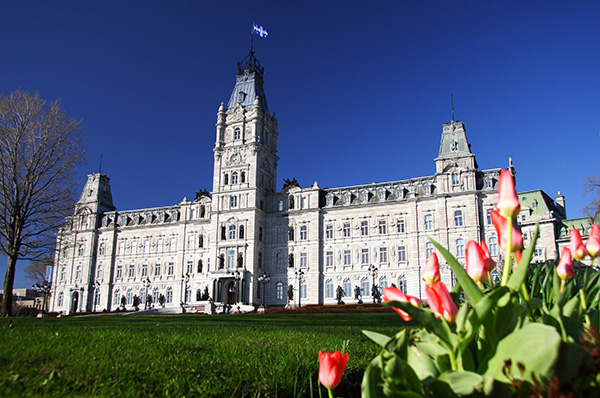 Located in the Parliament Building, Le Parlementaire is a magnificent beaux arts dining room that offers a menu worthy of the most refined palates. From 1917 to 1968, Le Parlementaire was a gathering place reserved for MNAs.
Host to numerous state dinners and formal receptions, and venue par excellence for Québec products. Le Parlementaire is unique among the city's gourmet restaurants. In the summertime, Le Parlementaire chefs take pride in preparing their dishes using produce and honey harvested from the Parliament gardens and beehives.
This optional dinner is available on a first come, first served basis. Use the "book" button opposite to secure your place.
Planned schedule
19:00 – 20:00: Cocktail hour (two drink tickets per person - beer, wine, water) with the opportunity of a self-guided tour through the historical chambers of the parliament
20:00 – 22:30: Dinner at the Le Parlementaire restaurant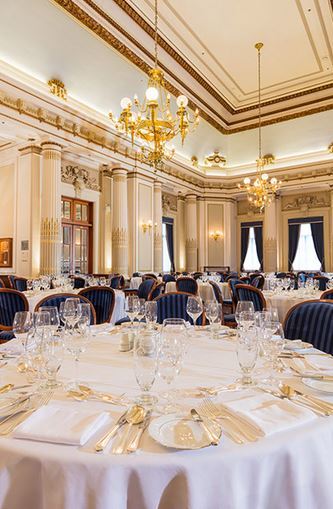 Menu
Seasonal vegetable salad,
salad greens and raw vegetables
***
Cream of mushroom,
marinated mushrooms and coriander
***
Maple roasted salmon supreme
Beurre blanc, cranberries and wild rice
***
Trio of sorbets
Strawberry, blueberry and raspberry sorbets, Langue de Chat cookies
Coffee, tea, herbal tea
Important, please note:
Drinks for the dinner are not included, please order and pay individually on site.
Special requests: Possibility to choose a vegetarian meal and food allergies on request. You need to register this by latest 7 June. Requests after this date costs 20 US$ in addition.
Security
You need to show your photo ID to enter the Parliament building
Please read the security policy below


Costs per person: 95 US$
Security Policy for private events at the National Assembly
Security screening:
All guests are required to go through a metal detector.
lt is always necessary to carry a photo ID (e.g. health insurance card, driver's licence, passport).
Before walking through the metal detector, guests must place all their items, including purses, coats, iackets and belts, in a blue tray for screening purposes.
Shoes or jewelry do not have to be removed (unless security personnel so request).
Be sure to AVOID CARRYING (including in trousers pockets)
metal objects
coins
gum
cellphones or pagers
cameras
(All of the above must be placed in the blue tray.)
Be especially sure to avoid carrying
a Swiss army knife or other bladed weapon(Any such weapon will be confiscated by security and returned to guests as they leave the building.)
Thank you for your cooperation!