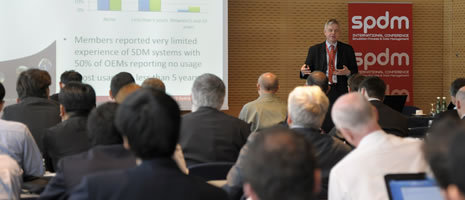 SPDM International Conference
sponsored by ESTECO
Every seat was filled for the opening session of the first International Simulation Process and Data Management Conference in Salzburg on June 10th. This reflects the strong and growing interest in ways of managing the rapidly expanding number of digital experiments carried out to refine and validate product designs.
Frank Popielas of Dana, a major automotive supply-chain company, introduced the subject of SPDM in the opening plenary session at the parallel World Congress. He stated that Simulation is the development engine in Dana's Virtual Engineering Environment and that Simulation Lifecycle Management, which underpins all simulation activities, is the most advanced form of Collaborative Product Development in the world today. In his keynote presentation he showed the congress the highly intuitive user-interfaces that his analysts enjoy, with a graph display of a simulation process and intuitive visualisation of a complex product and simulation results. A significant benefit of such intuitive user interfaces is a short training time required of engineers, only three hours.
During the SPDM Conference, Peter Coleman of Airbus introduced the six papers presented by member companies of the CRESCENDO consortium and echoed Frank's sentiments that Simulation Process and Data Management provides an essential platform for product development going forward. He explained that the ambition of CRESCENDO was to initiate a step-change in the way that Modelling & Simulation activities are carried out by distributed multi-disciplinary teams working on a Behavioural Digital Aircraft dataset – a functional Digital Mock-Up of the complete aircraft. The BDA approach employs multiple interconnected SPDM platforms to support the BDA data-model and architecture. Joint presentations by industrial partners, Rolls-Royce and Airbus, along with software vendors including SIMULIA, MSC Software and Siemens PLM, showed how the BDA approach could support collaborative simulation between partners using a variety of heterogeneous commercial SPDM tools.

The CRESCENDO presentations on the future of SPDM in Aerospace were complemented by presentations of the results already achieved by SPDM in industrial production by Airbus at Bremen and by the Chengdu Aircraft Company (CAC), the largest supplier of metallic structural parts for aerospace in China.

Jiusong Zhang of ESI presented the implementation of VDSS to support material forming simulation at CAC, integrated with PLM and a Material Database. CAC were experiencing the classic issues that modelling approaches and engineering assumptions strongly impact the results of non-linear simulations. This SPDM solution provides engineers with access to templates and best practices to ensure repeatable results. The results of forming simulations are captured in standardised formats to facilitate communication and comparison of analyses. CAC have been successful in democratising simulation to a wider engineering population. This allows simulation to be used to design a greater proportion of their tooling, so increasing tooling performance as measured by reduced defect rates and manufacturing cycle times. The system roll-out to support seven forming-process domains has been achieved within 2 years.

Jaymeen Amin presented the latest developments on the High Lift Systems Virtual Testing Portal, an implementation of SimManager used to manage the validation of the physical testing of High Lift Systems (HLS). This system has been used to support HLS flight clearance, the flight-safety-related tests before "first flight" for the Airbus A350, which took place shortly after the conference. The team presented impressive enhancements to their system in the area of results extraction and presentation. However Jaymeen commented that the development was relatively costly and not very flexible. This system implementation is a classic SDM 1.0 deployment with extensive custom developments on an SDM platform, in this case SimManager.
What is new and noteworthy at this conference is the presentation of examples of what may be thought of as SPDM 2.0 deployments as well as the SDM 1.0 and bespoke SPDM developments that have dominated SPDM practice for a decade. SPDM 2.0 is a new generation of configurable SPDM applications on SDM and PLM platforms that accelerate deployment for an expanding set of use-cases. This is described in more detail in the author's introductory presentation to the conference on the NAFEMS website.
The largest SPDM 2.0 deployment to date was presented by Marc Hertlein. BMW have replaced their customised SPDM solution after ten years of production use with the SimManager 2012 Automotive Solution. The new BMW system provides end-to-end process support to nine disciplines including crash and forming analysis, where the results of the forming analysis are re-used in crash simulations. Typically 280 users run as many as 2500 simulations per day. BMW report that they have doubled the number of vehicle programs with the same number of simulation engineers, doubling engineering throughput over a four year period. By retiring their custom developments, BMW have reduced support costs and benefit from better flexibility, re-configuring the system with internal resources. In addition, BMW can rapidly deploy configurable functionality to additional simulation domains.
A landmark presentation of an SPDM 2.0 deployment on a PLM platform was given by Thorsten Pohl of GM Opel. He described how they are deploying TeamCenter for Simulation to address the SPDM needs of GM. He described the specific architecture adopted at GM to deploy Tc4Sim into their CAE environment. Two FEA use cases are now in production, demonstrating that a successful productive use is achievable within a reasonable timeframe. Ulrich Fox presented the development of the Tc4Sim deployment at Ford and the architecture adopted. In particular, he described variant management of include-files and of modules used in multiple analyses.
On the theme of structuring model data for re-use in iterative and parallel analyses, Christophe Lemaitre of Faurecia described how extensive use of include-files combined with an impressive custom SPDM development has virtually eliminated manual data management. His team execute up to 4000 simulations to optimise and validate a seat design. Faurecia's custom solution encompasses both numerical and physical testing and was developed by a small team in only 2 years. Two other custom SPDM developments were a Jaguar-Landrover solution for the management of geometry and CFD data presented by Daniel Wellman and a solution for Bogie simulation management presented by Thomas Moshammer of Siemens Rail Systems. It is noteworthy that expert software developers can still produce effective and cost effective solutions in the SPDM domain.
On the topic of business value, Ravi Shankar of Siemens PLM presented his view of the benefits achievable from SPLM. Leo Kilfoy of MSC Software presented a detailed financial analysis of the benefits for medium sized companies of moving to computation on the cloud, enabled by SPLM.
Graham Harlin of Rolls Royce described an assessment of the potential value of SPDM to an Aero Engine manufacturer and the use cases such a system will need to support. Venkat Parameshwaran of Altair echoed Graham Harlin's point that business value can only be achieved by an SPDM solution that is user-friendly and imposes minimal to no overhead on analysts. The business value of SPDM, based on the NAFEMS White Paper, was taught as a short course on the eve of the conference, as was an introduction to SPDM.


This short article could not do justice to the number of high-quality papers presented at the Conference so a more comprehensive review will be posted on the NAFEMS website. These papers contribute to the substantial body of knowledge derived from the conferences dedicated to the management of simulation data and processes held by NAFEMS since 2009, both in Europe and North America. The proceedings of these conferences are also available to members on the NAFEMS website.


Mark Norris is an Industry Principal with Infosys, an engineering, simulation & PLM services provider and systems integrator. He has many years' experience of PLM consulting and solution design around Teamcenter, ENOVIA and SimManager. He is the author of the SDMWG White Paper on the Business Value of SDM and can be reached at e.mark.norris@gmail.com.