Topics
Please note that the following topics are indicative of what the Congress will cover, and are not in any way exhaustive.
If you are unsure about the relevance of your proposed submission, please get in touch at nwc19@nafems.org
---
Finite Element Analysis
Computational Fluid Dynamics
Multibody Dynamics
Discrete Element Methods
Boundary Element Method
Mesh-Free Methods

Particle Methods
Extended Finite Element
Lattice Boltzman

New and Emerging Numerical Methods
Co-simulation / Code Coupling
Structural

Residual Stress
Thermal Stress
Failure
Dynamic Analysis
Crash Impact
Contact
Connections & Joints
Buckling / Collapse

Fluid Flow

Cavitation
Combustion
Multiphase Flow
Turbulence

Acoustic
Electrical
Heat Transfer
Optical
Electromagnetics
Multiphysics
Multiscale
Optimisation

Process Optimisation
Size & Shape
Optimisation Methods

Postprocessing

Visualisation
Interpreting and Communicating Results
Error Estimation

Pre-processing

Image Based Modelling
Meshing

Stochastic / Probabilistic Methods
Quantifying Business Benefits
Generating Confidence in Results

Verification & Validation
Code Verification
Uncertainty Quantification
Education & Training

Uncertainty Quantification
Simulation Governance
Simulation Maturity Levels / TRLs
Robust Design
Testing & Qualification

Certification by Analysis
Integrating Analysis & Test
Automation
Democratisation
High-Performance Computing

Cloud Computing
Parallel Processing

Licensing
CAD - CAE Integration
Real Time Simulation
Composites
Concrete
Metallics
Nanomaterials
Foam
Plastics
Rubber
Soil
Bio materials

Representing Material Phenomena

Crack Propagation / Fracture
Damage / Failure
Delamination
Durability & Fatigue
Equation of State
Hyper Elasticity
Phase Transformation
Plasticity
Viscoelasticity

Microstructural Modelling
Virtual Allowables
Automotive Powertrain Electrification Technology

Hybrid / Plug-In and Full Electrification Simulation
Battery Cell Development Simulation
Electrical motors

Autonomous Navigation Technology

Vision Imaging Analysis
Data Analytics

Life Sciences

Biomechanics
Medical Devices
Certification
Systems Modelling & Simulation
In a multi-domain world, simulation & analysis needs to be integrated into the overall system model in an efficient and sensible way. This symposium will examine will examine how we can drive the direction of technology development and standards in this space.
MBSE
Systems Engineering
Standards
FMI / FMU
Integrating different levels of simulation fidelity
Multidisciplinary Analysis
Digital Engineering – Should we Believe the Hype?
We'll be looking beyond The Hype surrounding all things 'digital' and exploring (perhaps bracing ourselves for) the huge impact that these technologies are expected to have on the engineering industry of tomorrow.
Digital Twin
AI & Machine Learning
Cloud Computing
Industry 5.0 / Digital Manufacturing
Virtual Reality / Augmented Reality
Internet of Things
Manufacturing Process Simulation
The Congress will host a dedicated symposium on Manufacturing Process Simulation& Additive Manufacturing, covering virtual manufacturing tools within the product design and manufacturing cycle.
Additive Manufacturing
Metallic Manufacturing Process

Casting
Cutting
Drawing
Forging
Heat Treatment
Welding

Composites Manufacturing
Virtual Material Data Transfer in Manufacturing
Accurate engineering simulation of manufacturing processes is complicated by the many process stages involved (e.g. components made of composite material). This requires different software, simulating different processes, but maintaining a complete history of the material and product information in order to accurately predict the product behaviour. A major problem is the transfer of this material data from one stage to the next, generally requiring more non-productive work than expected in order to get the information translated from its output data form to a new input data form ready for the next simulation. To enable all software tools to become interoperable and overcome these issues the VMAP project is creating standards, methods and software tools to automize this material data transfer, taking into account material, geometric and idealization information.
This symposium, to be held in collaboration with the ITEA VMAP project (focussing on interoperable virtual material models and a seamless transfer of material data history), therefore aims to discuss interoperable issues, standards, methods and software tools related to virtual material data transfer in CAE via the following:

Conference presentations to be submitted by anybody working in the field, software vendors and developers, other standards groups, materials groups, etc.
Open discussion sessions with brief seeding presentations to be submitted by users, collaborators and developers on needs, requirements, difficulties, possible solutions, etc.
A VMAP workshop to show various case studies demonstrating the pilot VMAP concepts and software tools.
A technical workshop for software vendors and developers on the implementation of the VMAP concepts and software tools.
---
4th International SPDM Conference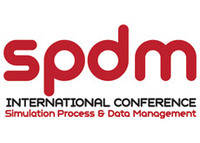 Once again, the Congress will host the International Conference on Simulation Process and Data Management (SPDM). This industry-leading event will bring together industrial users, technology experts, academics and software vendors alike, allowing all those with an interest to take part in the only truly independent, international forum dedicated to SPDM.
Deployment of SPDM solutions
Analysis planning and reporting
Business processes implemented in SPDM
Digital threads and digital twins implemented in SPDM
Business value of SPDM solutions
Standards-based approaches in SPDM
Open source approaches to SPDM
Essential components of an SPDM solution
Data and process integration tools
Platforms for the deployment of industrialised/democratised simulation processes
Examples of deployment of democratised simulation applications
SPDM strategy
SPDM requirements
Scope of SPDM
Data standards