Benchmark magazine
Special Edition - Simulation in the Oil & Gas Industry
This special edition of benchmark magazine, which you can download for free by completing the form below, has brought together a series of past articles which are strongly relevant to simulation in the oil & gas industry.
A host of challenges face the oil and gas industry at the moment, with increasing pressure to minimize costs, safety risks, downtime, and emissions. As the industry looks to become ever more safe and efficient, simulation and analysis has a key role to play going forward. The accurate representation of the reality of loading and response of offshore installations and their mechanical components requires a multidisciplinary approach, as well as knowledge of current best practices & standards to deliver the innovative solutions which are required by industry.
As with many industries, simulation is now becoming a vital part of the engineering design process. With this reliance on the technology comes the need for increased use of the wealth of knowledge organizations such as NAFEMS can provide, in order to ensure that companies and individuals are using best practise in their day-to-day work, as well as carrying out simulation to recognised standards and as efficiently and accurately as possible.
As part of our industry focus, a series of events in early 2015 have been scheduled, looking specifically at the challenges faced by the oil and gas industry, and how simulation and analysis can help meet these goals in a cost-effective and efficient manner. Within this special edition of Benchmark, you will find articles on many topics related to the industry, all of which give a best-in-class perspective on a range of the issues that are prevalent to all involved.
Complete the form below to download the article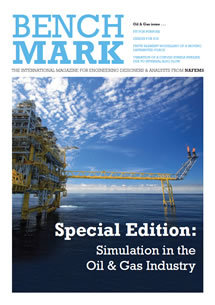 Industry Focus
---
April 7, 2016 | Houston, TX
---
June 7-9, 2016 | Seattle, WA