10 Steps to Successful Explicit Dynamic Analysis

Two-Session Live Online Training Course - 2-2.5 hours per session
Attend the live sessions, or view the recordings at your convenience


---
When can I use explicit dynamics?
What is hourglassing?
How can I speed up my analysis?
Get the answers to these questions and more with this industry-leading, code-independent e-learning course.
---
Explicit dynamics is simple, right? It's easy to set-up the model, and the software takes care of the rest. But what happens if something goes wrong? If the computer time is way off the charts? And even if you do eventually get to a solution, is it as accurate and robust as it could be?
This 2-session, live online course will cover the theoretical background of explicit dynamics (briefly!), the advantages and limitations, approaches to speed up the solution, select elements, material modelling, modelling contact boundaries, typical results and the specific simulation considerations, as well as showing real-world industrial examples including manufacturing, impact, explosion, and many others.
You can either attend the live sessions or take the course on-demand at your leisure.
NAFEMS e-learning gives you the best of both worlds, giving you real, practical knowledge that you can use day-to-day to improve your analyses.
---
What will you learn?
The uniqueness of explicit dynamics
Limitations of explicit dynamics
What hourglassing is and how to control it
How to do mass scaling
What questions will this course answer?
When can I use explicit dynamics?
What is hourglassing?
How can I speed up my analysis?

Who should attend?
Engineers and Managers wishing to use explicit dynamics themselves or within their departments. This is often the first step into the nonlinearity and time-dependent area after linear static analyses that is often problematic due to the specific issues related to explicit dynamics.
Engineers should be familiar with dynamic behaviour, contact, large deformations, etc. that are referred to in the course but not dealt with in any detail.

---
Specialised design problems involving short-duration high-pressure loadings generally require the use of explicit dynamics methods to obtain a good answer within reasonable timescales. These problems often simulate severe loading and material failure, from events such as impact, blast loading, car crash, etc.
Some manufacturing simulations in which there is changing contact between components with the material undergoing vast deformation also use explicit dynamics methods, such as metal forging, sheet metal pressing, etc. Proving the necessary inputs and checking the results is important but often the real source of errors encountered in the simulation is difficult to determine.
This course provides a basic overview of explicit dynamic simulation methods, briefly describing the theoretical nature together with its software implementation and its advantages and disadvantages.
It should help engineers carry out explicit dynamics simulations, ensuring accurate and robust solutions with correct analysis choices avoiding possible pitfalls. It should also help engineers distinguish problems that should be solved explicitly or implicitly, thereby providing the least time to obtain a solution.
---
The course is completely code-independent.
A full set of notes in PDF format will be available for download. Each session is presented live and is available for review via a streamable recording.


Personal passwords are provided to allow you to access e-learning backup material via our special bulletin board. Reading lists, homework submissions, supplementary data are all stored as files on the bulletin board.


Interaction via the bulletin board is strongly encouraged to obtain the most from the e-learning class. Typically the board runs for 4 weeks after the last live class sessions, giving you plenty of time to catch up with homework, review and ask questions.

Note: homework is purely voluntary!
---


Course Process and Details
Students will join the audio portion of the meetings by utilizing the VoIP (i.e. headset connected to the computer via headphone and microphone jacks) or by calling into a standard toll line. If you are interested in additional pricing to call-in using a toll-free line, please send an email to: e-learning @ nafems.org .


Special Note(s):
Telephony surcharges may apply for attendees who are located outside of North America, South America and Europe. These surcharges are related to individuals who join the audio portion of the web-meeting by calling in to the provided toll/toll-free teleconferencing lines. We have made a VoIP option available so anyone attending the class can join using a headset (headphones) connected to the computer. There is no associated surcharge to utilize the VoIP option, and is actually encouraged to ensure NAFEMS is able to keep the e-Learning course fees as low as possible. Please send an email to the e-Learning coordinator (e-learning @ nafems.org ) to determine if these surcharges may apply to your specific case.
Just as with a live face-to-face training course, each registration only covers one person. If you plan to register a large group (10+), please send an email to e-learning @ nafems.org in advance for group discounts.
For NAFEMS cancellation and transfer policy, click here.


PSE Competencies addressed by this training course
| | |
| --- | --- |
| ID | Competence Statement |
| DVkn1 | State Newton's 2nd Law or, equivalently, the d'Alembert Force Method. |
| DVco25 | Discuss the characteristics of mass and damping matrices. |
| DVco30 | Discuss the concept of mass and stiffness proportional (Rayleigh) damping. |
| DVco37 | Describe the terms Lumped mass matrix and Consistent mass matrix and identify which formulation is appropriate to elements being used. |
| DVco44 | Explain the terms Implicit Solution and Explicit Solution for the time integration of the equations of motion and the appropriate associated problem classes of dynamic analyses. |
| DVco47 | Contrast mesh density requirements in static and dynamic problems. |
| DVco49 | Discuss possible sources of nonlinearity in a dynamic problem. |
| DVco52 | Explain why uniform meshes are often advised for shock or wave propagation problems. |
| DVap3 | Employ a range of post-solution checks to determine the integrity of dynamic FEA results. |
| DVap7 | Employ an analysis system for the determination of transient response in a range of linear and nonlinear systems. |
| DVap10 | Employ an analysis system for the simulation of impact. |
| DVap11 | Employ an analysis system for the determination of dynamic stresses, where appropriate. |
| DVap13 | Illustrate the approximate nature of finite element analysis, through dynamic examples chosen from your industry sector. |
| DVan1 | Analyse the results from dynamic analyses and determine whether they are consistent with assumptions made and the objectives of the analysis. |
| DVsy1 | Prepare a dynamic analysis specification, highlighting any assumptions relating to geometry, mass distribution, loads, boundary conditions, damping, and material properties. |
| DVsy2 | Plan a dynamic analysis, specifying necessary resources and timescale. |
| DVsy3 | Prepare quality assurance procedures for dynamic finite element analysis activities within an organisation. |
| DVev1 | Select appropriate idealisation(s) for components / structures, which are consistent with the objectives of the dynamic analyses. |
| DVev2 | Assess the significance of neglecting any feature or detail in any dynamic idealisation. |
| DVev3 | Assess the significance of simplifying geometry, material models, mass, loads or boundary conditions and damping assumptions on a dynamic analysis. |
Upcoming Sessions:
Course Tutor: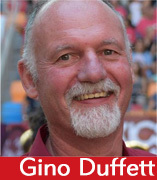 Read Gino's bio on the NAFEMS Tutors Page

---
Not Available to Attend this Time?
Would you like us to notify you when the next run of "10 Steps to Explicit Dynamic Analysis" is open for enrollment? If so, add yourself to the eLearning Waitlist!
---


Note: Once you register for the course using the "order" button (look up), you will receive your invoice, and the day before the course starts, an email invite to the class discussion board. Please note that no 'physical' goods will be mailed to you.

Please click here to view the FAQ section, or if you need to contact NAFEMS about this course.
---

Engineering Board PDH Credits

*It is your individual responsibility to check whether these e-learning courses satisfy the criteria set-out by your state engineering board. NAFEMS does not guarantee that your individual board will accept these courses for PDH credit, but we believe that the courses comply with regulations in most US states (except Florida, North Carolina, Louisiana, and New York, where providors are required to be pre-approved).