Corporate e-learning solutions


NAFEMS e-learning has been providing world-class training in FEA, CFD and related technologies in a virtual learning environment for the past five years. Over 3,000 individuals from around the globe have been trained in that time, from all ability levels across every industry.
Our e-learning course programme has developed into an offering of numerous stand-alone topics, covering subjects as diverse as "Introduction to FEA" through "Essentials of Fluid Mechanics" to "Advanced Dynamic Finite Element Analysis", "Thermal Finite Element Analysis", "Computational Fluid Dynamics for Structural Engineers", "Simulation Data Management", and many more.
Many corporations however have very specific training requirements for their staff. Some may find that their needs would be better met by a combination of the stand-alone e-learning topics, into a seamless flow providing a truly unique training course, specifically designed to meet your needs, at your pace, and at your level of experience.
Read more about each option here, and compare the benefits below.
NAFEMS seeks to address this need by offering two levels of corporate e-learning - gold and platinum - providing your organisation with the ultimate is customized online training which is tailored specifically to your needs.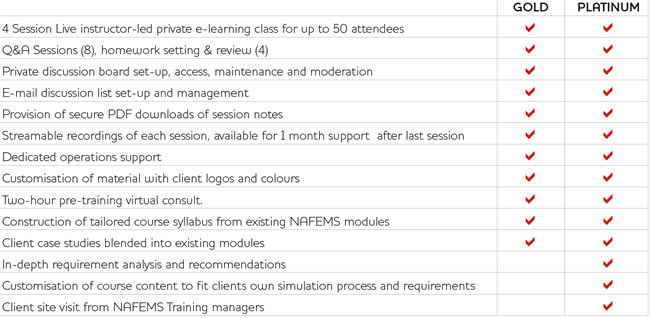 Interested in exploring further? Contact training@nafems.org or call +44(0)1355 225688