🌟 2021 Simulia Regional User Meeting, Asia Pacific South! 🌟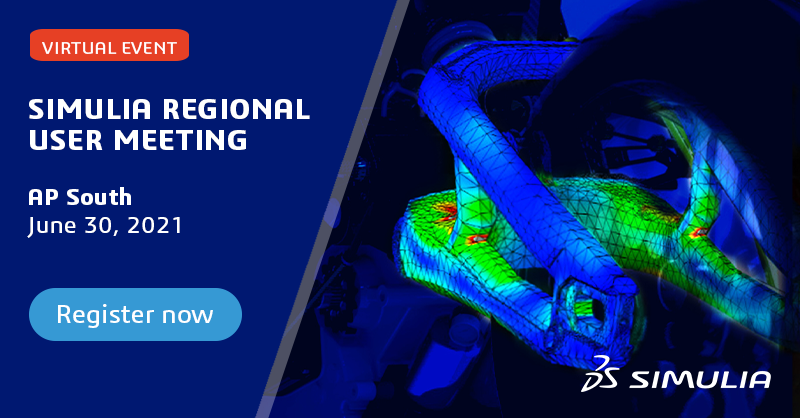 The 2021 SIMULIA Regional User Meeting (RUM), is a special event in our Asia Pacific South calendar, and we are excited to host this year's RUM on Wednesday, June 30th.
This year's RUM will be held online because of the global pandemic.
We expect to return with an in-person event as soon as we can.


As well as demonstrating the game-changing power of using simulation on the 3DEXPERIENCE® platform, we are going back to our roots.
Attendees can expect to hear updates and demonstrations from R&D on our key disciplines and products, including; Abaqus, fe-safe, Isight, Tosca, Simpack, CST Studio Suite, Opera, PowerFLOW and XFlow.


Due to the pandemic, we are running these events online, but with plenty of opportunities to engage with the presenters, through our Roundtable Discussion, Brand Updates and Customer Presentations.
Join these sessions to hear from leading SIMULIA technology users, SIMULIA R&D and Technical Experts and ask questions during the live Roundtable session.

REGISTER HERE = events.3ds.com/simulia-regional-user-meeting-apsouth


What to expect:

• Hear multiple customer presentations, including from:
-Mr. David SCHOLTZ - Principal Engineer, Wood Group (Keynote)
-Mr. Sinan AIZAD - Senior Engineer, Simuserv
-Dr. CHIA Tse Tong - Distinguished Member of Technical Staff, DSO National Laboratories

• Listen to the latest SIMULIA update from our executive team.

• Meet with the experts who create your software and learn the latest about the 3DEXPERIENCE platform & SIMULIA's technology covering our disciplines.

• Talk with colleagues and key members of the SIMULIA R&D department during our Roundtable discussion.

Don't miss out!
REGISTER HERE = events.3ds.com/simulia-regional-user-meeting-apsouth